Every month, Rhombus deploys product improvements that make using the platform more intuitive, powerful, and user-friendly. These updates are rolled out automatically, so you can start enjoying them right away.
This month brings a better way to jump between cameras and easier ways to share video streams—plus, exciting new features for users of the A100 Audio Gateway and Rhombus Alarm Monitoring!
Here's what's new:
Jump Between Camera Feeds in One Click
Switching between camera feeds is now fast and intuitive. With this UI update, you can cycle through nearby camera feeds and video walls in just one click.
This feature makes live monitoring a cinch. When you're viewing a camera feed, just click Next or Previous to automatically switch to the next-closest camera. You can also click Jump To and select a specific camera video feed to view—and to make navigation easy, they're ordered based on proximity. It's a streamlined way to swap between video walls and perform a multi-camera check on an area.
It also applies to viewing historical footage. During investigations, you can quickly switch between different cameras to find the best and clearest angle of an incident.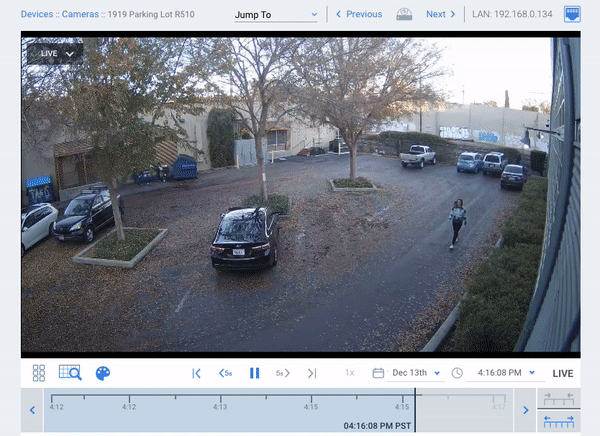 Jump between video feeds and cycle through cameras based on proximity.
For reviewing both historical and live footage, this update is designed to help you save time and navigate your camera feeds in a more efficient way.
Instantly Share Historical Footage via Streams
When you want to share footage from Rhombus, you have two main options: saved clips, and shared streams.
Saved clips are the best way to share short video clips that are under one hour in length. The clip is uploaded to the cloud, and then you can freely share via URL, SMS, and email.
Shared streams are a great way to instantly share a camera feed. There's no need to save/upload the footage to the cloud first, so they don't consume bandwidth and you don't need to wait for them to load.
Before this month, you could freely share livestreams, but if you wanted to share historical footage, you could only share all past footage on the camera. This meant that if you wanted to share a discrete or limited amount of past footage, you had to save it as a clip as opposed to sharing it as a stream.
We're delighted to announce that you can now share any amount amount of historical footage via shared stream! Whether it's three hours, three days, or three weeks, it's easy and fast to share exactly the amount of footage you want, no more and no less.
This means you can:
Share live and historical footage instantly: Save time and bandwidth—with a shared stream, there's no need to wait for a clip to upload before sharing.
Easily share large amounts of footage: You can share any amount of footage that is saved on your camera via stream. Depending on the camera, this is a maximum of 20 - 180 days of footage.
Sharing historical footage via streams is fast, simple, and available for free to all Rhombus users.
New Ways to Customize Your Shared Streams
All shared streams—both live and historical—have had some convenient quality-of-life updates. These new features give you granular control over the footage you share via streams.
Name and save streams for future use
Schedule when livestreams are available, such as Business Hours or a custom schedule
Restrict the amount of past footage available from the live stream (e.g., past 10 minutes)
Include audio on the shared stream for cameras connected to an A100 Audio Gateway
Instantly share clips of any length, without waiting for the clips to upload – this is currently limited to footage saved on the device and these clips are not saved to the cloud for 2 years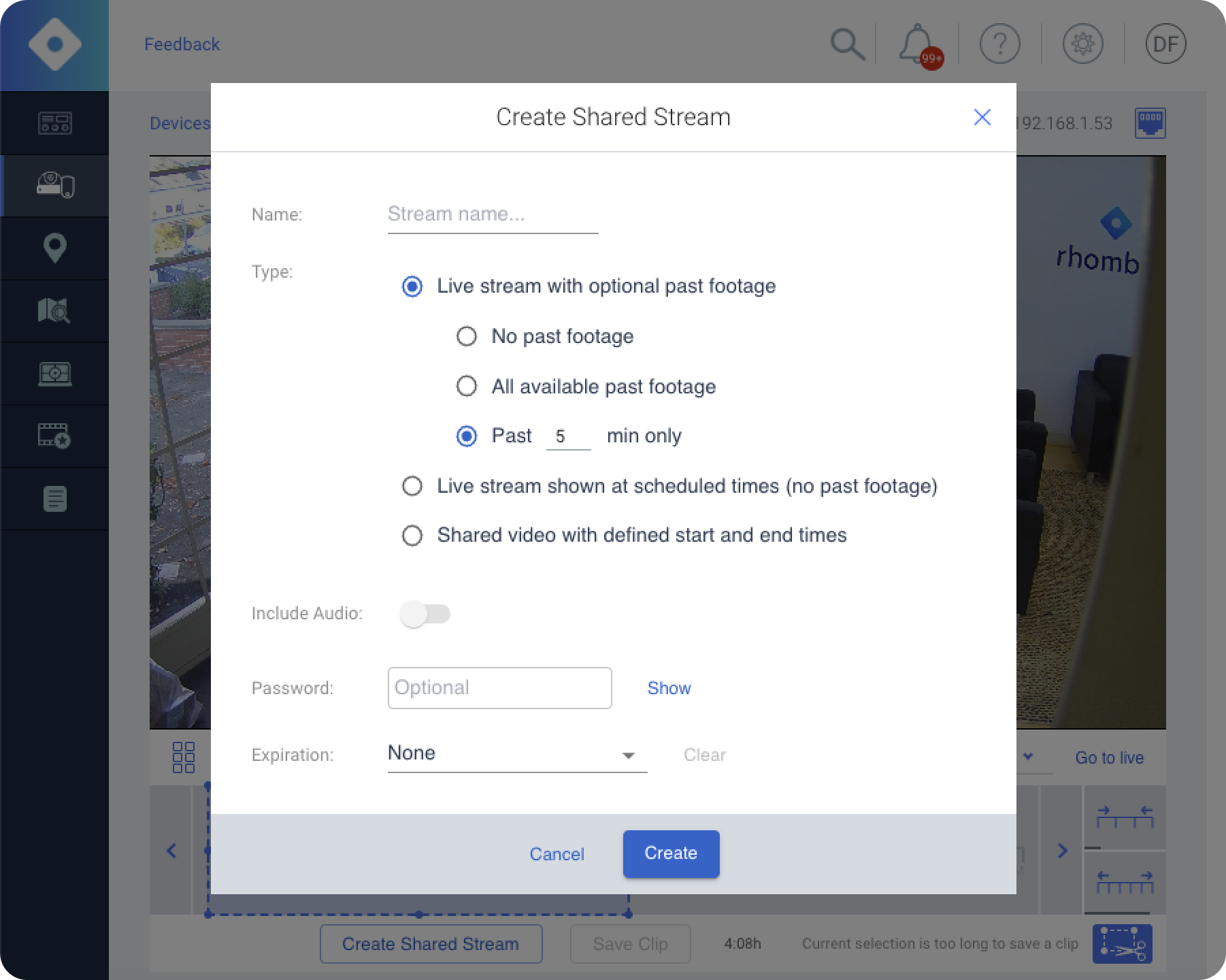 Create and save custom shared streams to share exactly the footage you want, no more and no less.
Introducing the Alarm Pad App
For organizations that want additional Alarm Monitoring touchpoints, the Alarm Pad provides a quick and easy way to manage the service onsite. The app allows authorized users to manage the system (e.g. start, pause, resume) onsite via PIN provided by an admin.
You can download the Alarm Pad App for free onto any iPad, so that you have the flexibility to deploy as many touchpoints as you need without worrying about subscriptions or device limits.
The Alarm Pad App's features include:
Start Now: Starts alarm monitoring early (e.g., arm the system) when leaving the location
Pause and Resume Alerts: Pause and resume alerts when entering and leaving a location when alarm monitoring is active
Dismiss Alerts or Report False Positive: Manage active alarms from onsite; dismiss non-issues as false positives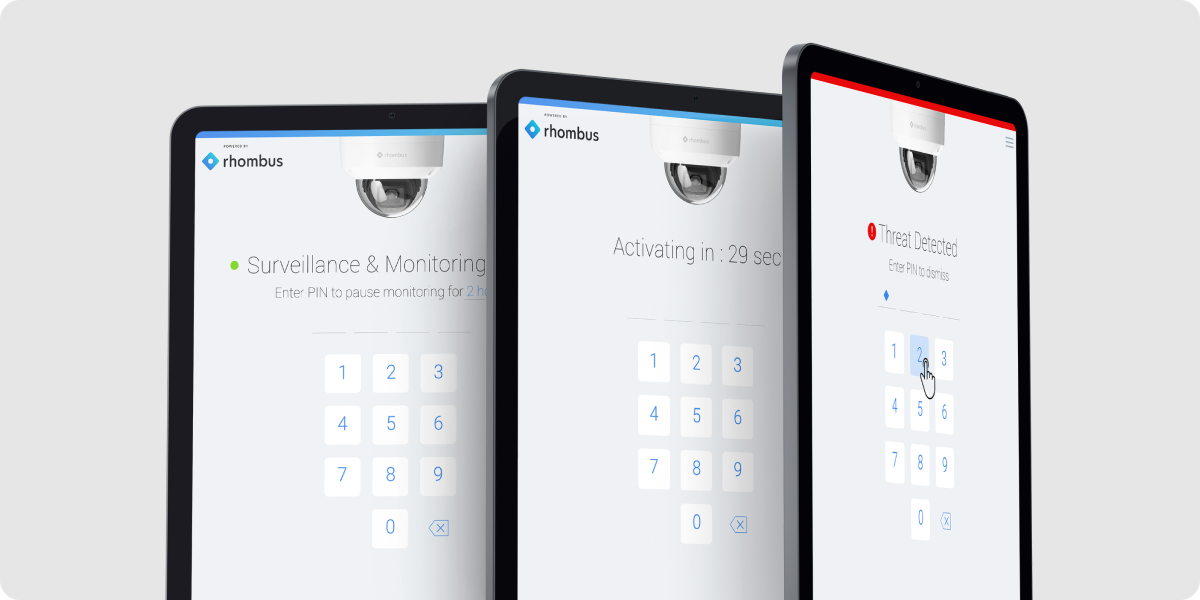 The A100 Rule Engine: Automatically Trigger Audio Alarms and Messages
The A100 Audio Gateway is a powerful smart sensor that lets you broadcast messages at scale and enhance security with audio analytics and two-way communication. Now, it can play an even more proactive role in your security strategy. With the new Rules Engine for the A100, you can automatically broadcast alarms and audio messages based on intelligent, real-time triggers.
Rhombus lets you receive many different types of real-time alerts based on AI analytics. Now, you can go beyond simply receiving an alert; set up rules to broadcast audio as the result of an alert. This can be a camera, sensor, or third-party integration alert.
For example, if a trespasser is detected after-hours, you can automatically sound an alarm or spoken message, notifying the trespasser that the authorities are on their way.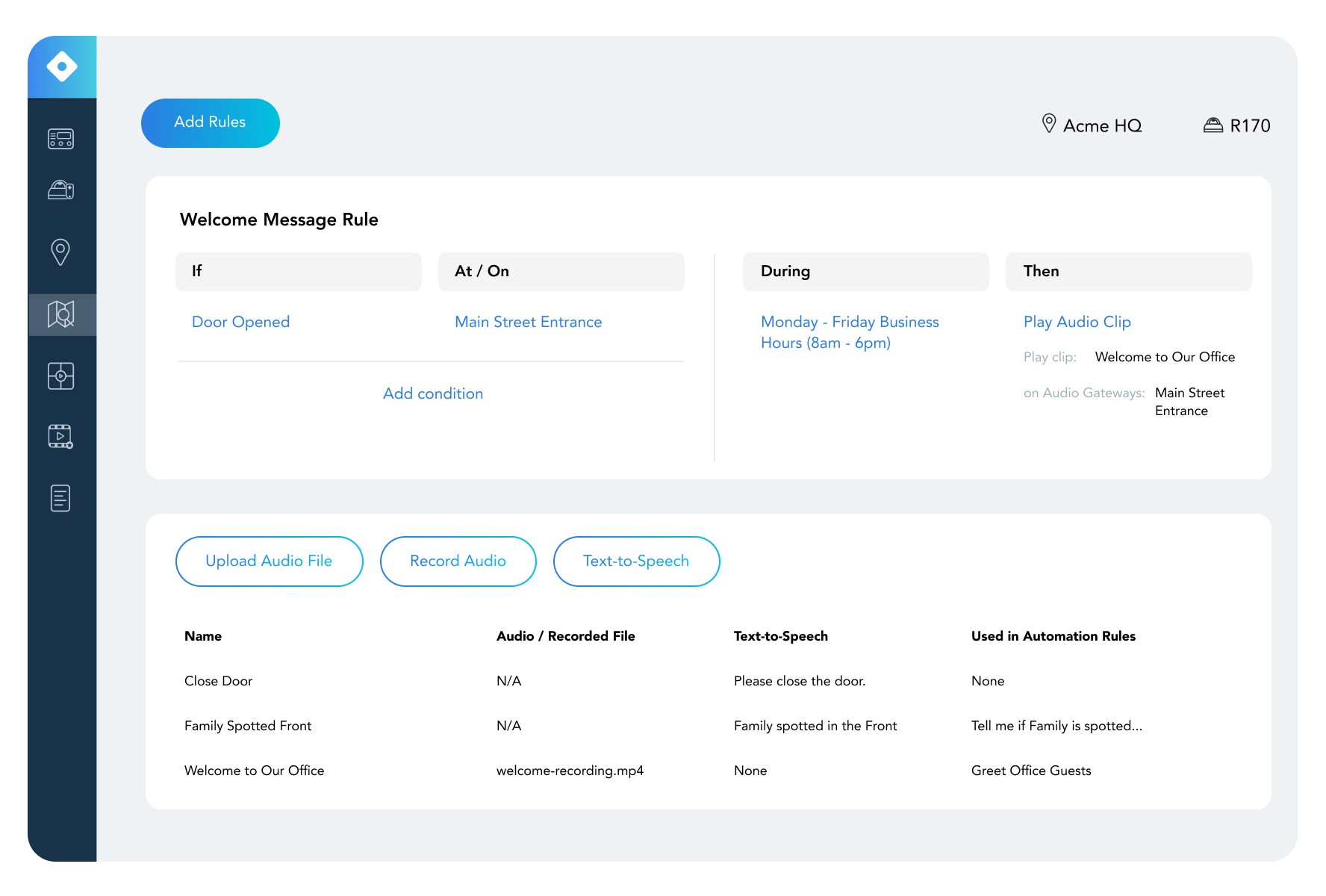 Create rules within the Rhombus Web Console to play audio clips through one or more Audio Gateways based on camera and sensor events from select devices or locations, during any schedule.
Creating rules is simple and setting up custom messages and alarms is easy. Choose from pre-set alarms, upload your own audio clips, or create clips right in the Console via recording or text-to-speech. All audio clips can be previewed before finalizing the rule. To make it easy to manage as the list grows, we've added a central place to manage audio clips in Settings.
In Case You Missed It
For a complete list of product updates and optimizations, see our Release Notes.