Back to blog home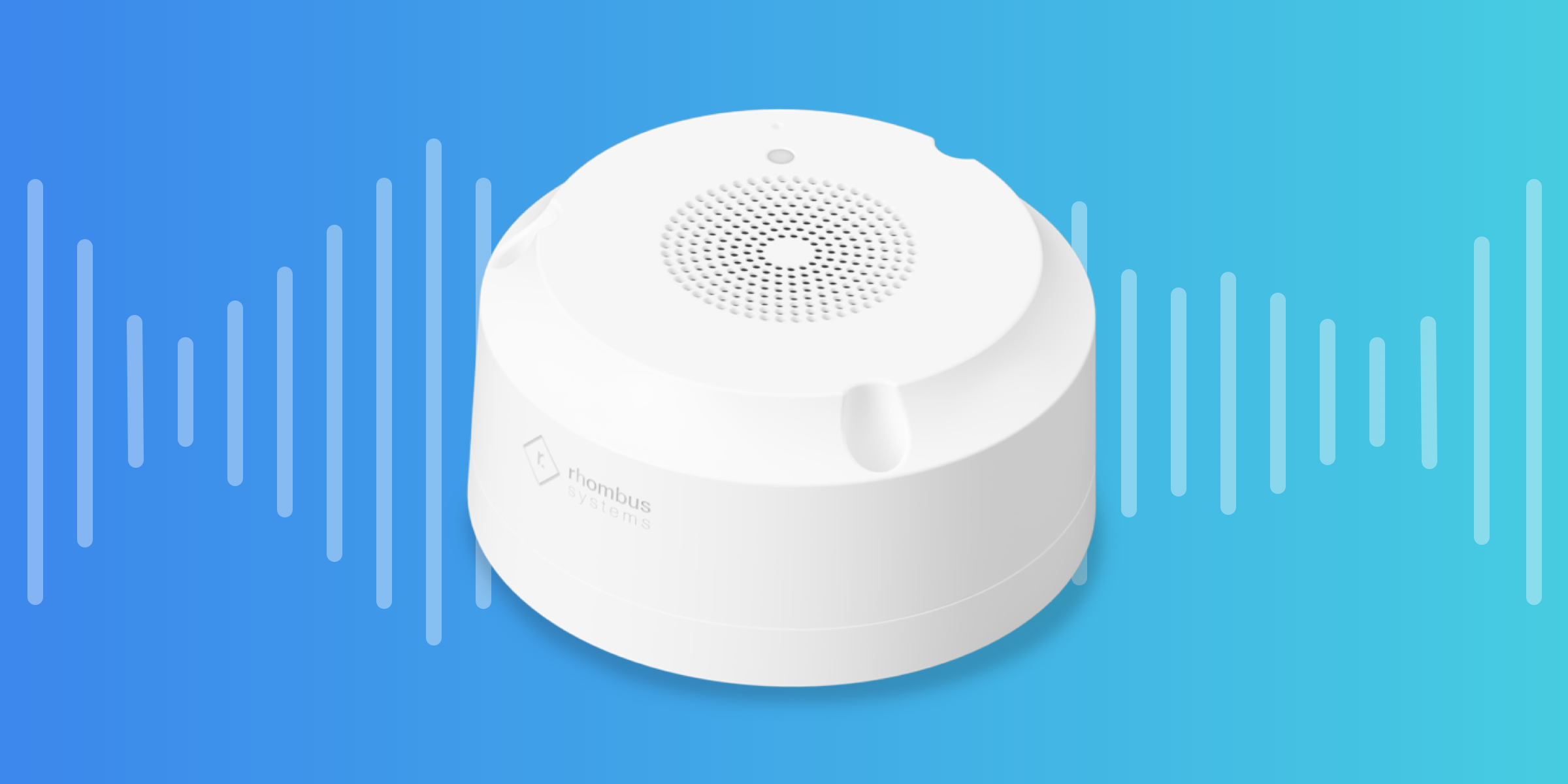 Back to blog home
Introducing the A100 Sensor: Enhance Security with Smart Audio Recognition & Communication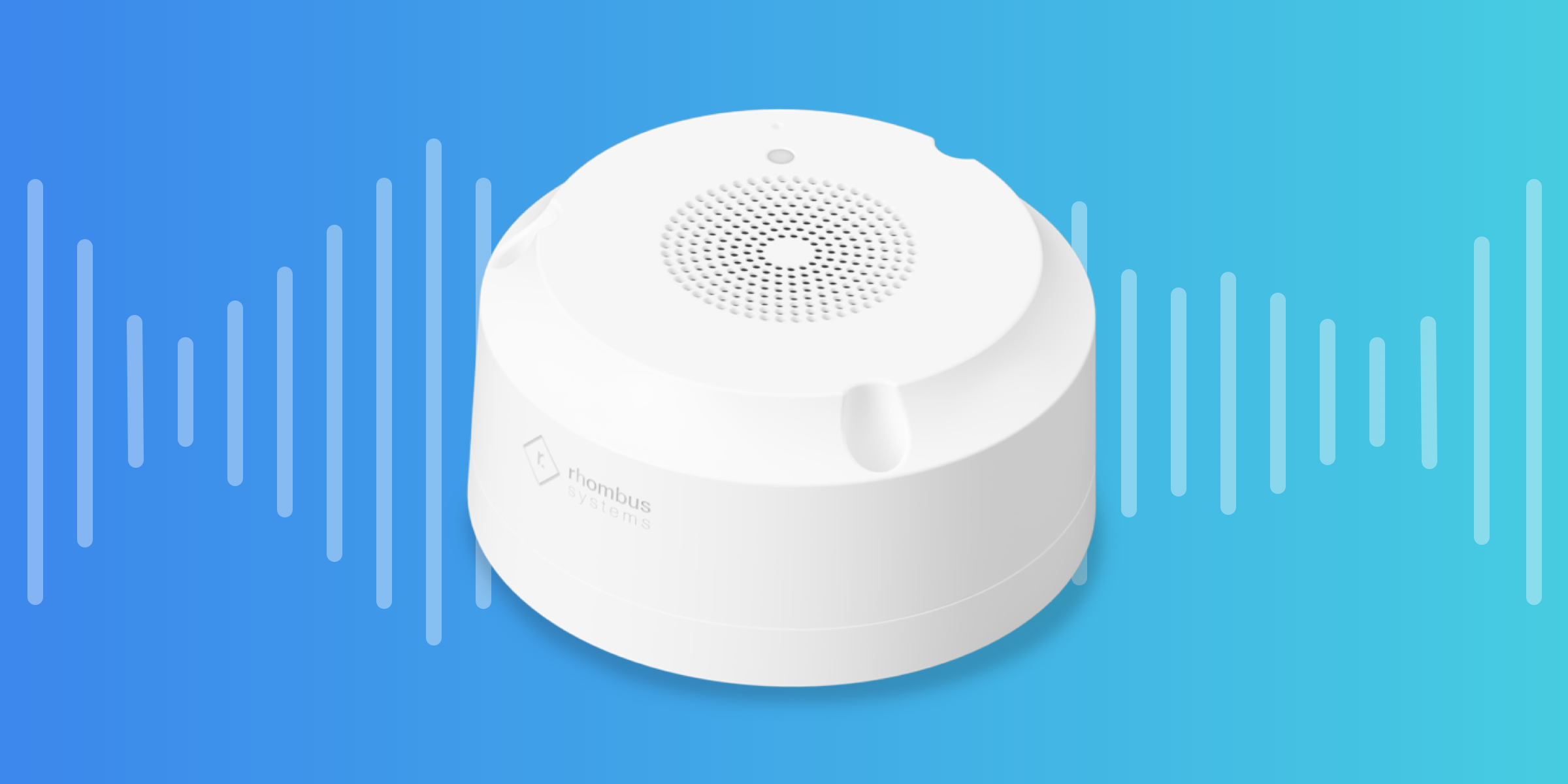 In the world of enterprise physical security, you know how essential it is to have visibility into your environments. When you understand what's happening onsite, you're empowered to make informed decisions about security, respond quickly to urgent events, and streamline operations.
We're excited to announce an innovative way to gain deeper insight into your facilities—the A100 Audio Gateway Sensor. The A100 is a powerful smart sensor that brings intelligent audio analytics to your environments at scale.
Synchronized Audio with Video Evidence
When your physical security technologies work in tandem, that's when you get your most powerful and insightful results. The A100 is built with this in mind; simply pair an A100 and a nearby camera together, and acquire synchronized audio and video in the Rhombus console.
This delivers a deeper, more accurate understanding of what's happening in your environment in real-time.
Easy to access: View real-time and historical video with audio recordings.
Save what you need: Enjoy 90 days of onboard audio storage with optional unlimited cloud storage.
Built to Rhombus' high standard of quality and compliance: The A100 comes with a 10-year warranty and is CE, FCC, NDAA, and TAA compliant.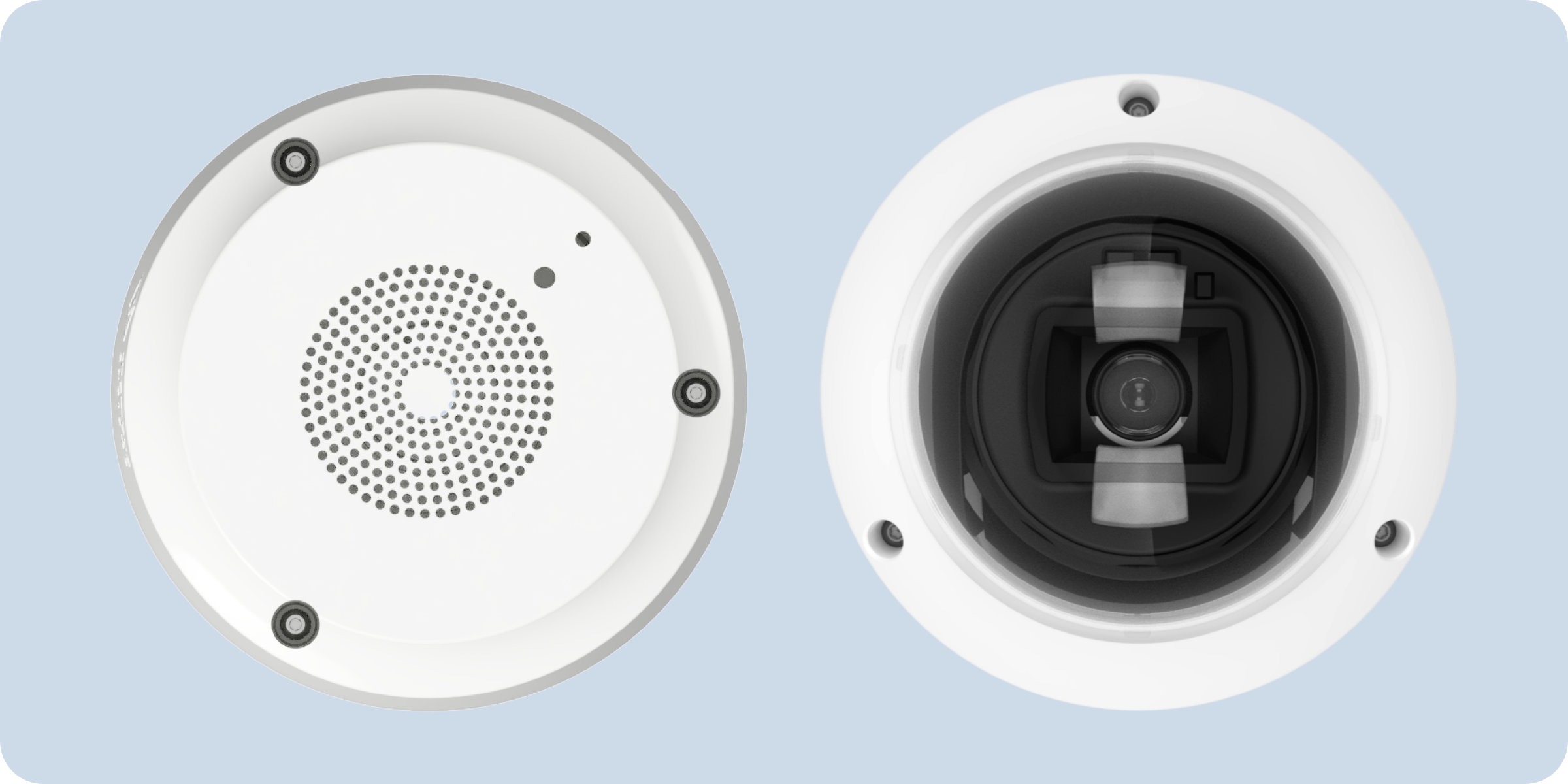 Talk, Broadcast, and Amplify Messages
With the A100, you can do more than passively record audio; you have the power to actively communicate through the sensor. Broadcast pre-recorded messages, have two-way conversations through the sensor, connect to external audio devices to broadcast alarms or messages at scale, and more.
Activate two-way communication from anywhere
Like a traditional intercom, the A100 features two-way audio support that makes it easy to have conversations with people onsite.
Unlike an old-school intercom, this sensor has a modern twist; you can communicate through it from anywhere around the world thanks to the Rhombus Console and Mobile App.
This two-way communication lets you talk and verify visitors at the door, answer questions for guests, share important messages with visitors, and even communicate with suspicious individuals on your building's perimeter.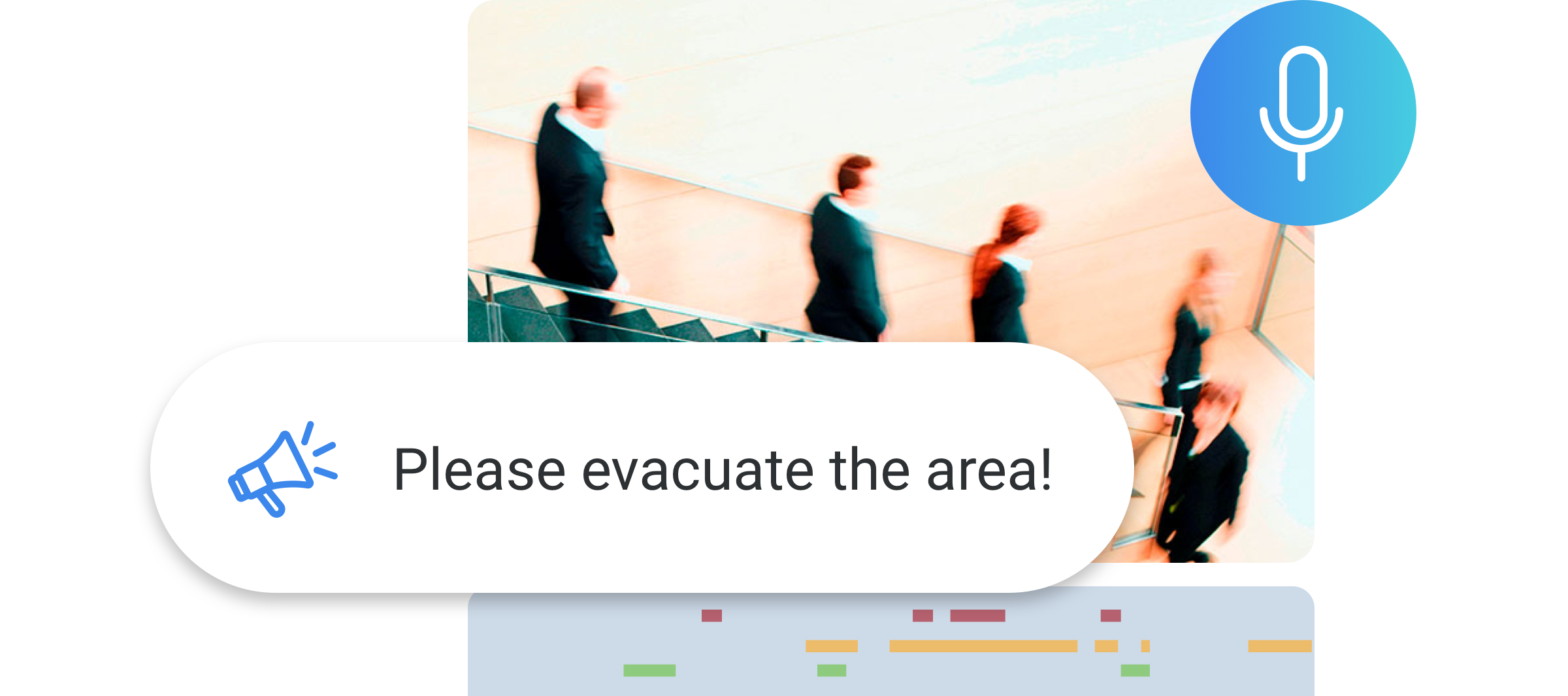 Choose to use built-in or external audio devices
Like any Rhombus device, flexibility and customization is key. Choose how you use the A100—with its internal microphone/speakers or by connecting it to dedicated audio devices.
All-in-one solution
The A100 comes with built-in AI analytics, microphone, and speaker – providing easy deployment without any additional equipment required.
The brains of an external audio system
With jacks to support external microphones and speakers, you can customize your experience with the A100. Connect it to dedicated speakers to broadcast loud messages and alarms, and use microphones to clearly communicate with visitors.
Communicate efficiently with live and prerecorded messages
The A100 works with Rhombus' entire suite of products. From the cameras to the sensors, and even with integrations with best-in-class solutions – the A100 helps you broadcast important messages quickly and at scale throughout your buildings.
There are two basic ways to communicate through the A100: live messages, and pre-recorded messages. By mixing and matching these features, you can create customized solution that serves your organization's specific needs.
Amplify live messages
Like an intercom you can use from anywhere, the A100 makes it easy to share information with people in your facilities. React in real time to make announcements, provide updates, instructions, and more. For instance, you can broadcast morning announcements in a school environment, or communicate live updates and instructions in an emergency situation such as an earthquake or other natural disaster.
Set prerecorded messages
Use the Rhombus Platform to record messages in advance and trigger them based on specific events. We'll cover intelligent audio triggers more fully in the next section.
Smart Audio Recognition
AI analytics elevate your security to the next level. They empower you to save an immense amount of time and improve your safety response.
The A100 brings that actionable intelligence to the world of audio. With it, you can monitor your environment for abnormal audio and receive real-time alerts based keywords, phrases, and noise levels.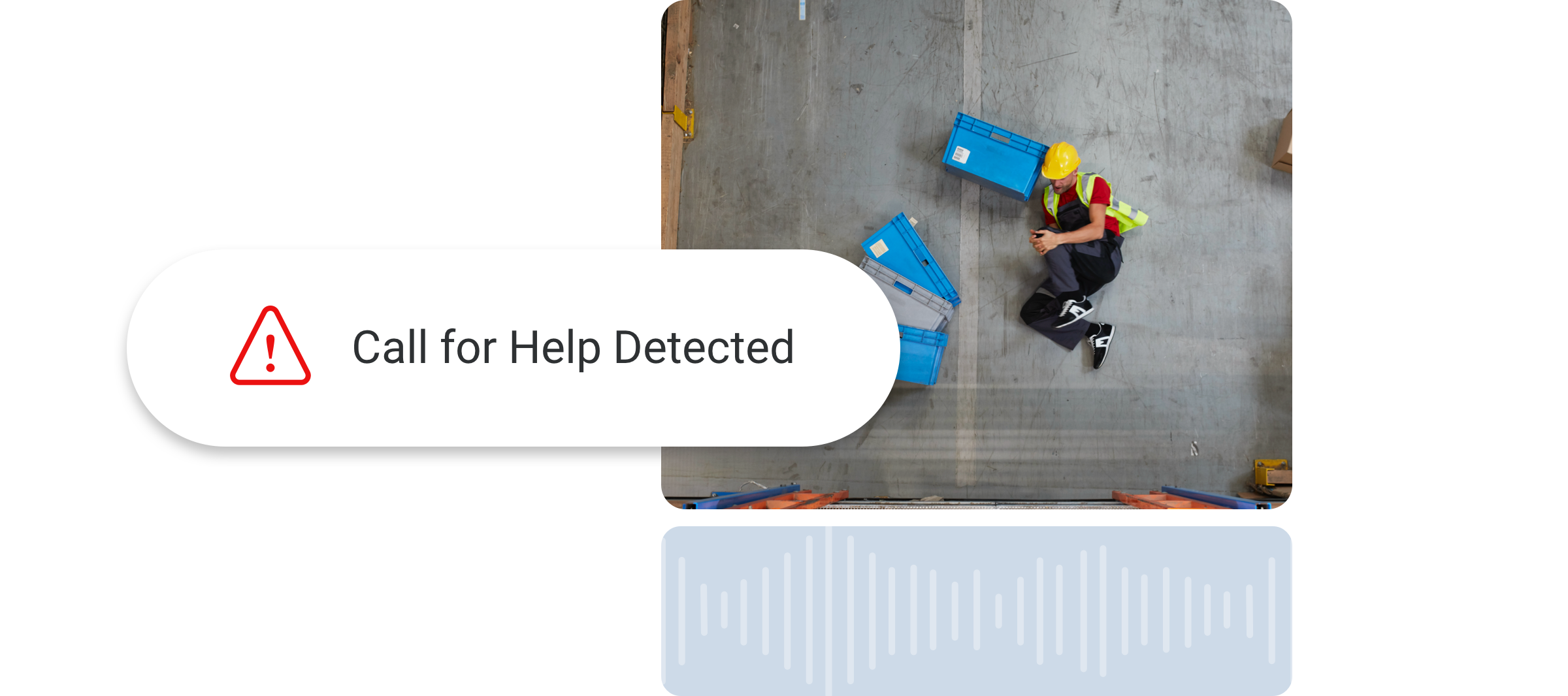 Automatically detect abnormal audio events
The A100 sensor uses AI analytics to monitor your spaces 24/7. It automatically analyzes and categorizes massive amounts of data, and from that data, it recognizes audio events and indexes them.
Use it to identify audio events such as:
Unusual audio levels
Noise fluctuations
Glass breaks
The A100 provides another dimension you can use to navigate security footage. Notable audio events are marked in your video timeline, which makes it easy to gather context of what's going on and jump to relevant footage based on audio.
Receive real-time audio alerts and automatically trigger audio messages
With the A100, you can go beyond just recognizing unusual audio events. You can issue pre-recorded messages based on camera, sensor, or integration events, as well as receive real-time alerts based on audio events. This allows you to react to situations quickly and improve the safety and security of your environment.
Audio-based alerts
You can choose to receive an alert if unusual noise is detected. For example, you can set an alert if unusual audio (e.g. glass breaking, shouting) occurs after-hours to defend against unwanted behavior and intervene before a situation escalates.
Automatically trigger an alarm or message
You can also choose to broadcast audio as the result of an alert. This can be a camera, sensor, or third-party integration alert. For example, if a trespasser is detected after-hours, you can automatically sound an alarm or spoken message, notifying the trespasser that the authorities are on their way.
Standalone Gateway for Rhombus IoT Sensors
Until now, Rhombus IoT sensors have functioned by being paired with a Rhombus smart camera. Now, you can use the A100 itself as a primary connection hub for the entire suite of Rhombus sensors.
A flexible, more scalable way to leverage the Rhombus Sensor Network
You can deploy the A100 as a standalone device and connect other Rhombus sensors (like the E2 environmental sensor, D1 door sensor, and more) straight to the A100—no camera required. This lets you deploy unlimited IoT sensors across a wide range of environments without worrying about camera-to-sensor connectivity.
The A100 works with all sensors, delivering intelligent audio functionality to the Rhombus Sensor Network. For example, if an E2 detects unhealthy air quality, the A100 can issue a real-time emergency message to evacuate the area.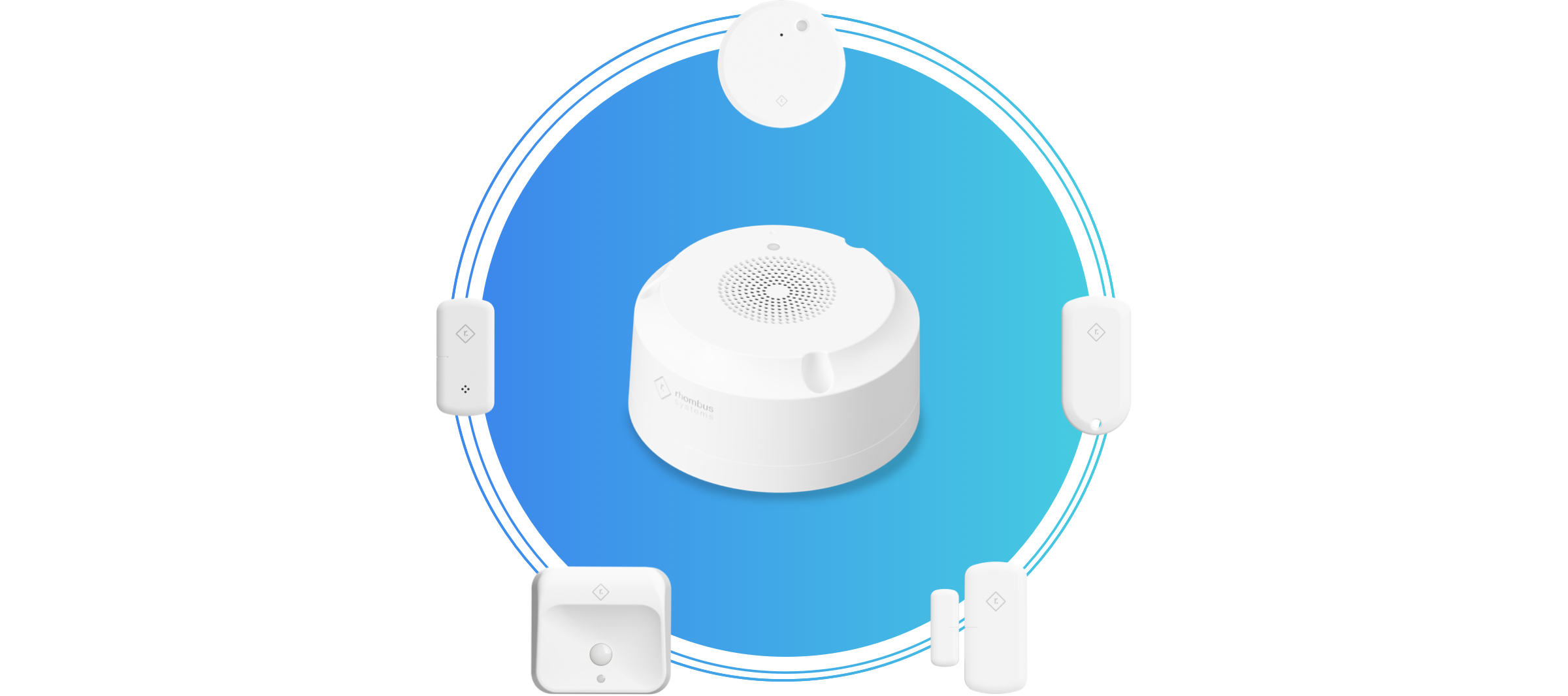 Takeaways
The A100 is a powerful sensor that enhances the ways you detect and respond to safety issues. As with all Rhombus products, the A100 is part of a unified platform. Connect it with your cameras, sensors, and third-party integrations to create a seamless and intelligent physical security solution that fits your organization's exact needs.
For sales inquiries or more information about the A100, please reach out to the Rhombus Team at sales@rhombus.com.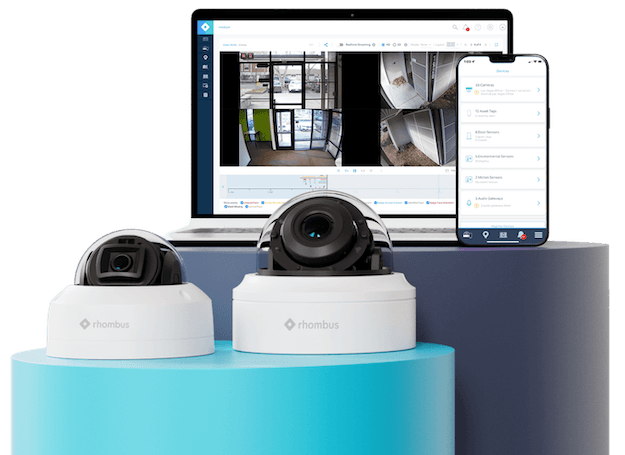 Try Rhombus for Free!
See why school districts, cities, and Fortune 500 companies use Rhombus.
Start Trial