In the 24/7 world of physical security, Rhombus delivers the round-the-clock coverage and best-in-class protection that enterprise organizations need. We're excited to be expanding the Rhombus suite of solutions with a new service: Rhombus Alarm Monitoring.
Rhombus Alarm Monitoring is a 24/7/365 service that combines AI-based alerts with live professional monitoring. By activating Rhombus Alarm Monitoring, businesses increase after-hours security, deter threats in real time, reduce false alarms, and accelerate emergency response—all with their existing Rhombus system.
AI-Based Cloud Security Meets Live Professional Monitoring
Rhombus Alarm Monitoring allows any organization to increase after-hours security without the need for dedicated personnel. When it's active, Alarm Monitoring leverages the intelligent, automatic alerts that a facility already receives through Rhombus, and routes them to professional monitoring agents.
"Many IT and Safety Managers love that Rhombus automatically sends AI-based alerts, but don't have the staff on call to respond after hours," says Rickey Cox, Director of Product at Rhombus. "Alarm Monitoring ensures that no matter when an incident occurs, a business immediately has professional eyes on the situation."
When an alert is triggered—for instance, if a camera or sensor detects human movement when a building should be empty—a live dispatcher investigates and uses video verification to determine the appropriate course of action. This may be flagging it as a false alarm, dispatching 911 emergency responders, or even issuing a custom audio deterrent through the Rhombus A100 Audio Gateway to deescalate the situation.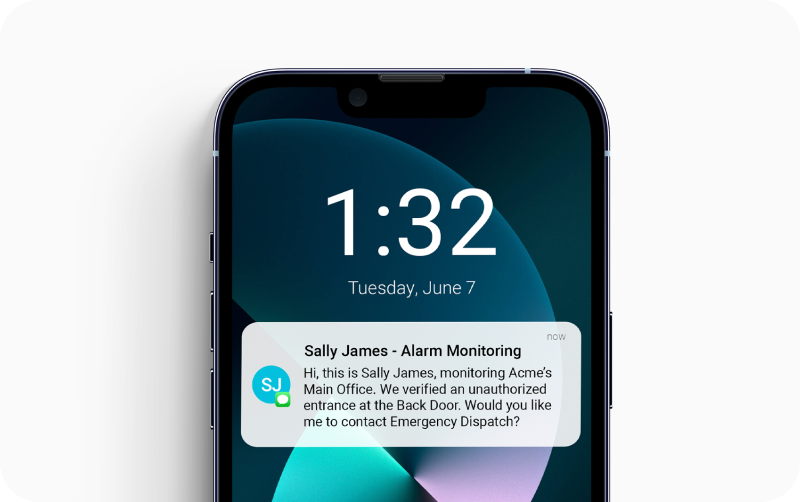 When a threat or security breach is verified by a live agent, the agent will text/call the organization's emergency contact list.
How It Works
Rhombus partners with TMA Five Diamond Certified dispatchers available 24/7/365, so you can rest assured you'll always have an extra set of eyes on your spaces. With live video verification and emergency dispatch, it's like having a full after-hours security team protecting your facilities.
Here's how it works:
Enable Rhombus Alarm Monitoring - Apply Rhombus Alarm Monitoring to your licensed Rhombus cameras and protect as many locations as you need.
Customize your preferences - Create policy and emergency contact schedules to determine what hours and days Alarm Monitoring will be active, and who should be notified by monitoring agents in different scenarios.
Start receiving verified alerts - While Alarm Monitoring is active, security alerts generated by Rhombus are routed to monitoring agents for live verification unless dismissed by a user.
Take action in an emergency situation - When agents verify a threat, they notify your contact list and escalate to 911 dispatch as needed.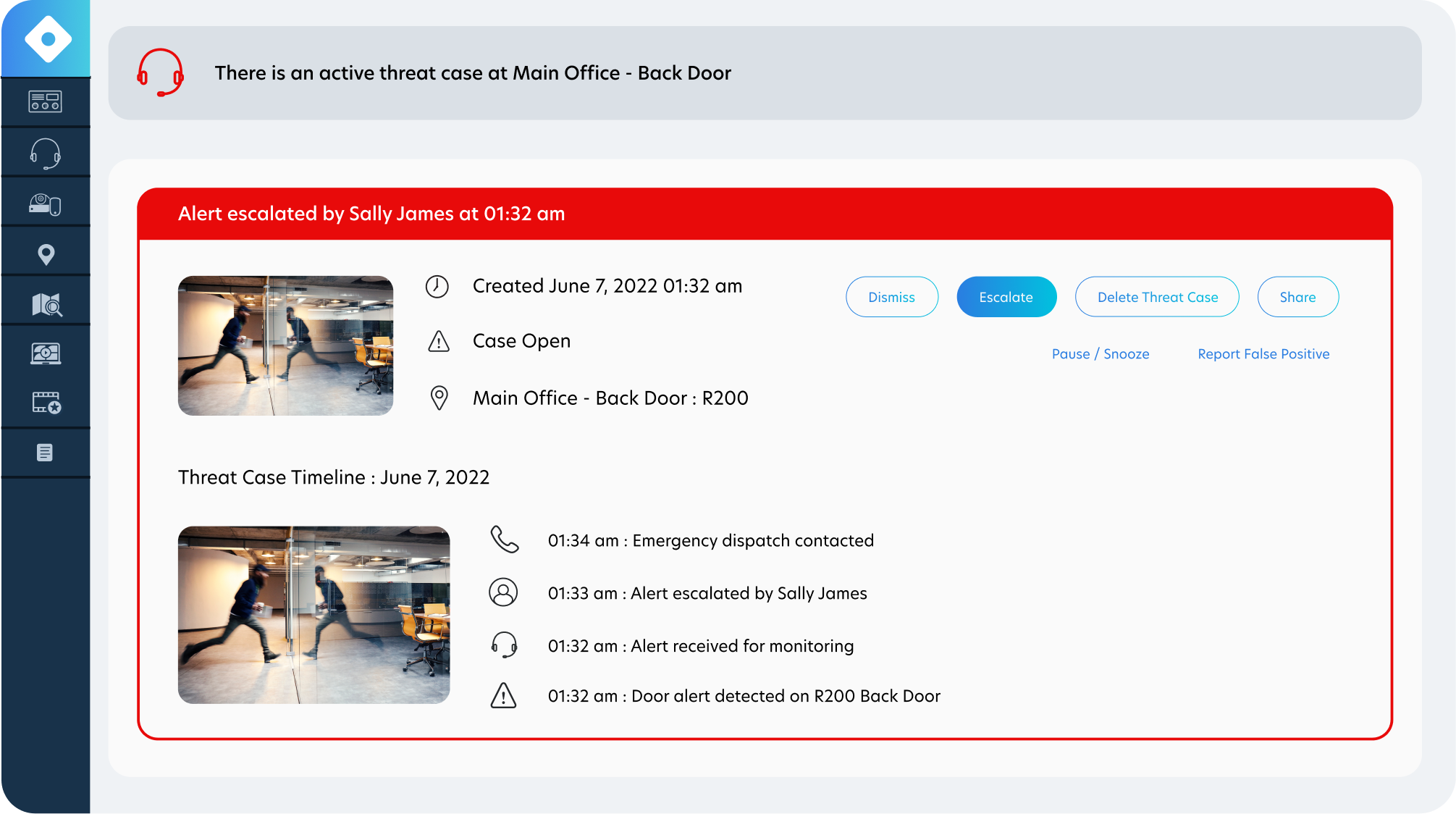 Manage security incidents, escalate threat cases, share essential information, and more from the Rhombus Console.
Take Action in an Emergency
If an agent verifies an emergency, they will take immediate action to neutralize the threat and protect your facilities.
Actions that professional monitoring agents may perform in the event of an emergency include:
Notify emergency contacts – Agents will text/call essential personnel based on the location's emergency contact list. Contacts are kept in the loop when incidents occur, and false alarms are reduced due to video verification performed by agents.
Dispatch emergency services - If an active threat to person or property is identified, agents will immediately dispatch local emergency responders to the affected location. (We advise that you obtain any necessary permits or licenses required by your local jurisdiction before enabling this feature.)
Share contextual information with first responders - Coordinating with first responders is especially powerful because, in just a few seconds, agents can securely share essential information from the Rhombus Console, including footage, livestreams, and location details.
Issue audible deterrents - With the Rhombus A100 Audio Gateway, an audible deterrent can be issued, such as a police siren, loud alarm, or custom message informing perpetrators that the authorities are on their way and to vacate the property. The use of an audible deterrent helps neutralize damage or threats in real time as emergency services are en route.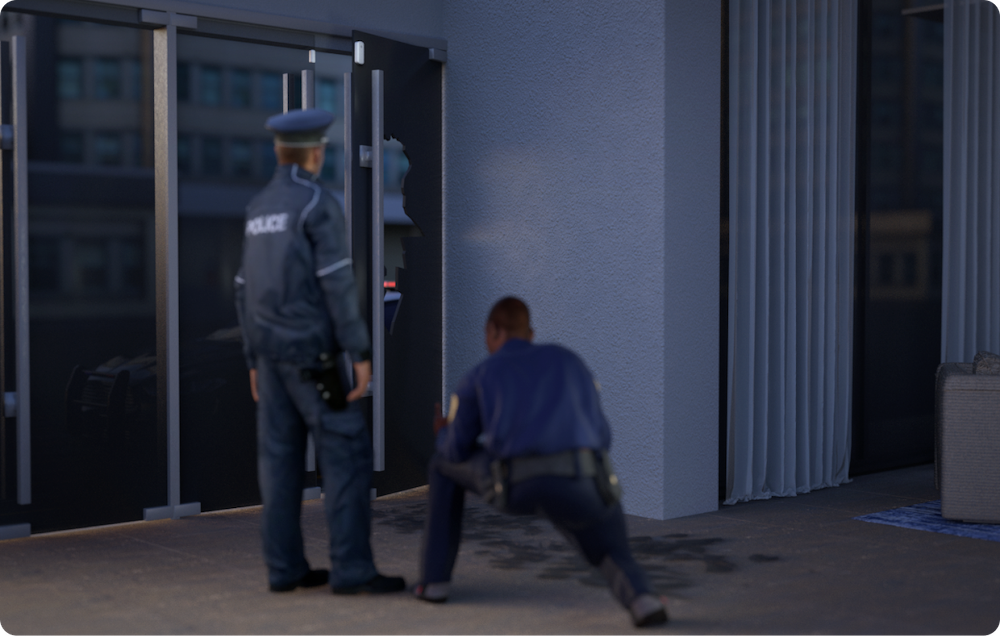 Add Onsite Touchpoints with the Alarm Pad
For organizations that want additional Alarm Monitoring touchpoints, the Alarm Pad provides a quick and easy way to manage the service onsite.
Authorized users can use the Alarm Pad to arm, disarm, manage alerts, or respond to incidents. From the Alarm Pad, onsite users with a valid PIN can immediately escalate, pause, snooze, or report false positives.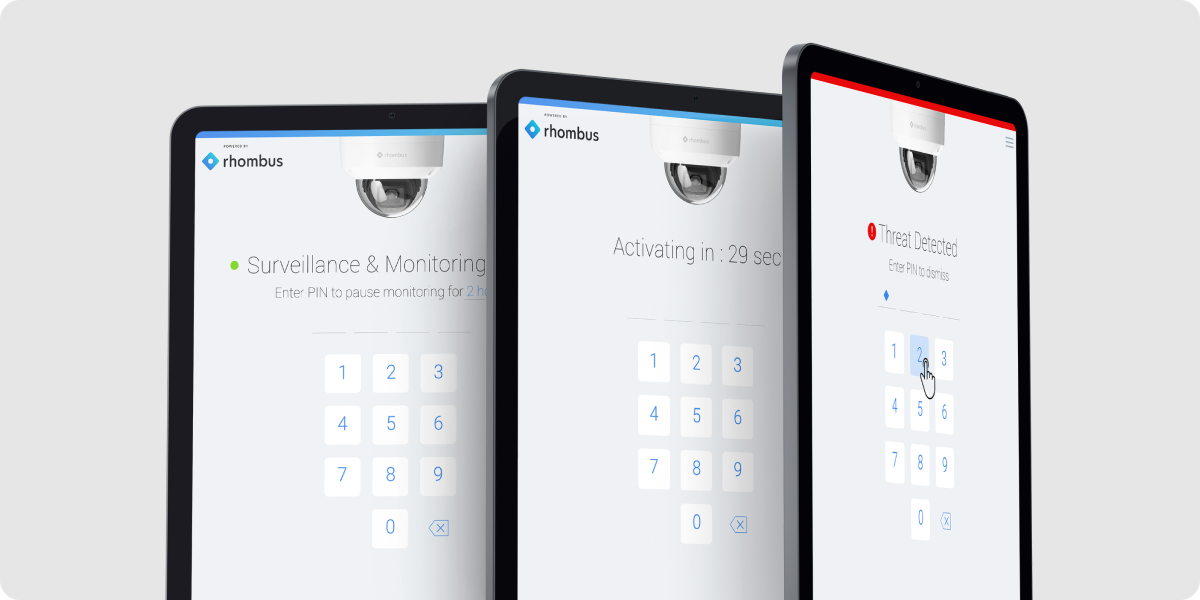 The Alarm Pad is an optional upgrade; Rhombus Alarm Monitoring can be managed entirely from the Rhombus Console and requires no extra devices beyond the cameras themselves.
Get Started with Alarm Monitoring
Rhombus Alarm Monitoring is a powerful service that allows any business to protect its facilities 24/7 without the need for dedicated personnel.
By activating Alarm Monitoring, enterprise organizations receive best-in-class coverage from live professionals and the full suite of Rhombus products—including smart cameras, sensors, and industry-leading AI analytics.
Alarm Monitoring is available for purchase in the US starting today. Please reach out to your preferred Authorized Rhombus Reseller or our sales team for more information.