As technology continues to evolve, there is a growing demand for smart sensors that provide deeper visibility and security insights beyond what security cameras alone capture. In response to that need, we're excited to announce the latest updates to the Rhombus sensor suite!
Two new smart sensors are now available: the E15 Environmental Sensor and the D20 Door Sensor. In addition, we're simplifying the security management process by eliminating licensing fees for the majority of sensors!
Read on to learn about the license-free model, the two new smart sensors, and how these updates will upgrade and streamline your security management .
Simplified Security Management: License-Free Smart Sensors
As a unified platform, Rhombus offers a full suite of physical security solutions. In addition to security cameras, access control, and alarm monitoring, organizations can connect IoT smart sensors to their system. Organizations use Rhombus' smart sensors to receive intelligent alerts with synchronized video evidence, gaining real-time, actionable insights beyond what cameras alone can capture.
IoT sensors typically require a renewable license in order provide AI analytics, cloud connectivity, and continuous health monitoring. We're excited to announce that as of this month, the majority of Rhombus smart sensors will now be license-free!
License-free sensors:
D20 Door Sensors
E15 Environmental Sensors
M1 Motion Sensor
These sensors have all the functionality you know and love, without the hassle and cost of licensing and renewals. By removing licensing, device and security management becomes simpler and more streamlined for Rhombus users.
Introducing the E15 Sensor: Upgraded Environmental Monitoring
The E15 is an enterprise-grade environmental sensor that provides proactive climate control. With the E15, it's a breeze to safeguard areas where temperature and humidity matter. Equipped with an enhanced battery life that is nearly twice that of the original E1, you can bid farewell to the hassle of frequent battery replacements and enjoy five years of uninterrupted operation.
The E15 is the updated version of the E1. As the next generation of Rhombus' original environmental sensor, the E15 has increased battery life and better weatherproofing, so you can deploy intelligent environmental monitoring in a durable and flexible device.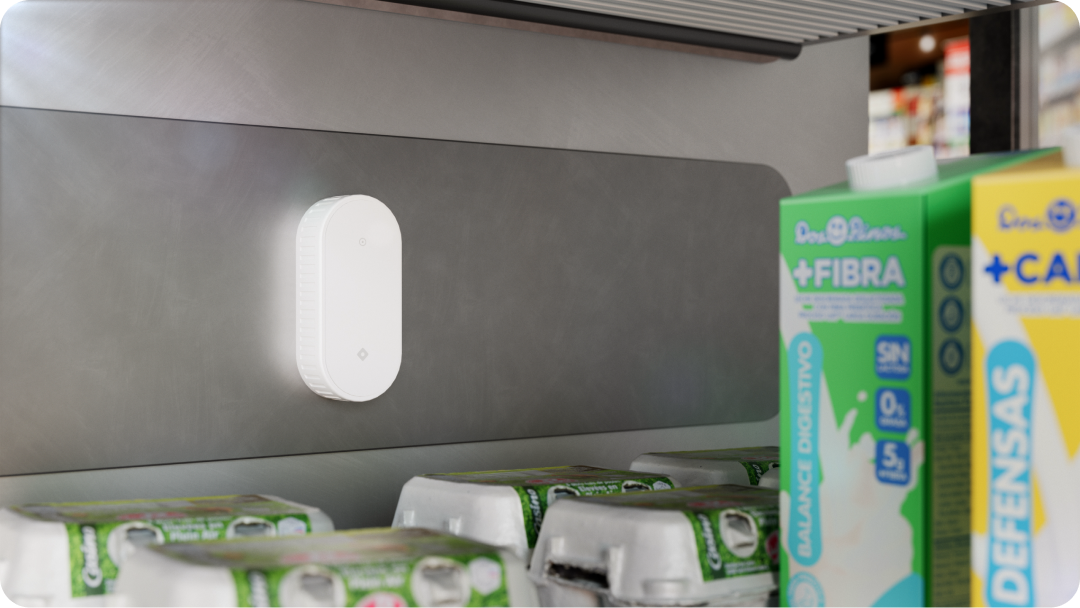 Deploys in seconds, lasts for years. Thanks to the E15's new long-lasting lithium battery, you can enjoy a set-and-forget experience that lasts five years with typical medium-heavy usage and up to eight with low usage. The E15's impressive battery life is double that of its predecessor, giving you greater peace of mind and even less upkeep.
Deploying the E15 is fast and straightforward—it's wire-free and can be mounted in seconds. The E15 can connect automatically to the nearest Rhombus BLE-enabled device with no complexity on your part.
Better weatherproofing for optimal performance in demanding environments. The E15 has an IPX4 weather resistance rating—it's protected from splashing water from any direction, making it perfect for a wide range of environments. Deploy it in hot, cold, damp, and humid environments for reliable environmental monitoring wherever you need it. Real-time device health monitoring in the Rhombus Console ensures your facilities remain protected no matter the condition.
Proactively monitor and protect temperature-sensitive areas.
With the E15, organizations can immediately detect potentially harmful fluctuations in temperature and humidity and quickly address issues, eliminating the risk of hazardous conditions.
Protect valuable assets such as servers, IT equipment, and temperature-sensitive inventory
Ensure food safety in refrigerators and freezers
Monitor medication and vaccine storage in healthcare environments
Promote quality control in the manufacturing process
Protect assets in climate-controlled storage units
Maintain optimal conditions and reduce energy consumption by controlling heating, ventilation, and air conditioning (HVAC) systems based on temp/humidity levels.
Gain key context at a glance to quickly diagnose and resolve issues.
The E15 makes it easy and fast to understand what's happening in your environment. Use real-time alerts to rapidly and remotely diagnose issues and take action before any damage occurs to assets.
Proactive alerts: Receive real-time notifications with synchronized video when temperature or humidity exceeds the predetermined threshold.\
Layer sensor data on video feeds: View synchronized video context with sensor data overlaid on video feeds. This makes it easy to see what triggered temperature/humidity fluctuations at a glance—for example, quickly identify user error (ex: someone didn't close the walk-in cooler properly) or identify faulty equipment.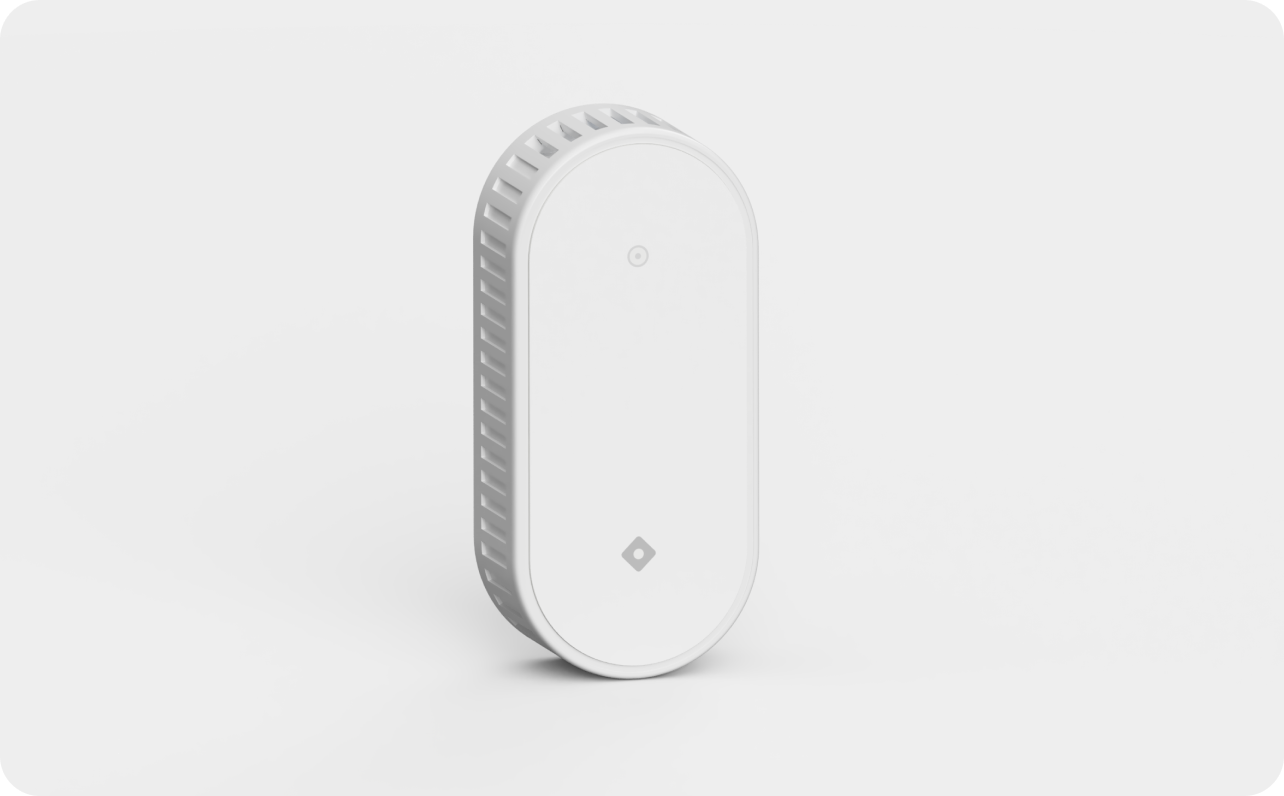 E15 Specifications
Dimensions: 70mm x 32.2mm x18.2mm
Measurements: 32.4g (w/ battery)
Range: Up to 100m
Power or Battery Type: Replaceable 2x1.5V AAA (Lithium Batteries included)
Battery Life: 5 years with typical medium-heavy use
Temperature Measurement: ±0.3°C (0°C to 60°C), ±0.5°C (-20°C to 0°C),
Humidity Measurement: ±4.5% (0% to 10% RH), ±3% (10% to 90% RH), ±3.8% (90% to 95% RH)
Mounting: Two-sided tape (included)
Weather Resistance: IPX4
Certifications: USA(FCC)
Introducing the D20 Door Sensor: Upgraded Entry Monitoring
Designed to offer unparalleled protection against unauthorized access, the D20 is equipped to monitor entry points and instantly alert you when doors, windows, or any physical access points are accessed or left ajar.
The D20 is the updated version of the D1. Powered by a replaceable lithium battery, the D20 has up to three times the battery life of its predecessor. The improved weatherproofing, durable exterior casing, and modern aesthetics of the D20 make it an ideal fit for every entry point in your business.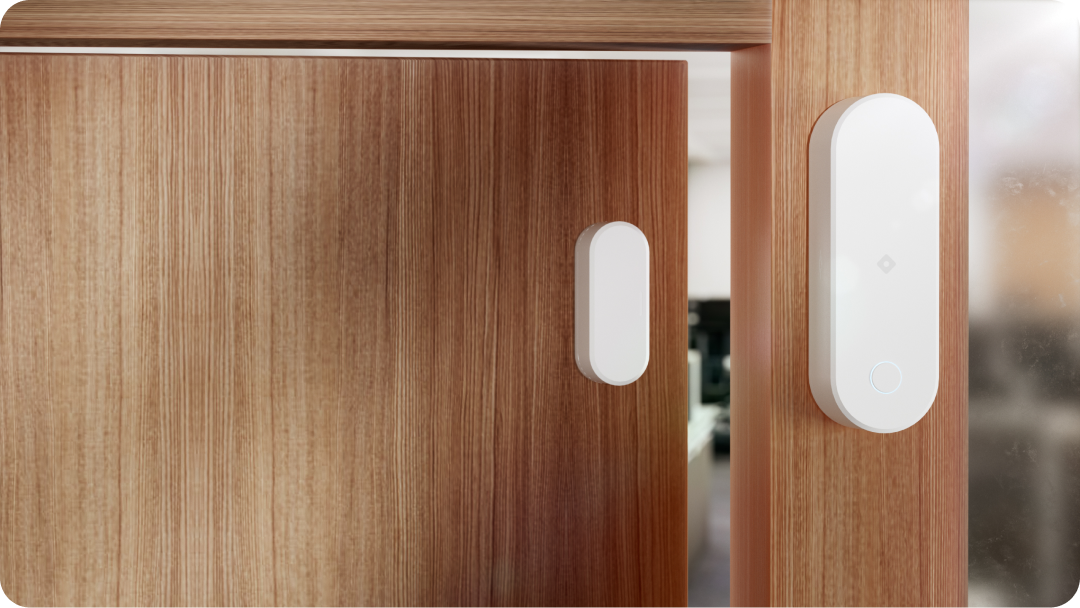 Enterprise-grade entry sensor with unbeatable battery life.
The D20 makes it easy to secure and monitor your entry points and protect against unauthorized access. As part of the unified Rhombus platform, the D20 sensor makes it easy to centrally monitor all access points from a single pane of glass. Enhance visibility by pairing entry sensors with other systems, including security cameras, alarms, and access control.
Gain real-time awareness of entry points
Keep track of doors and receive instant alerts for doors left ajar
Manage entrances during emergencies
Receive synchronized video clips for entry events
Thanks to the D20's new long-lasting lithium battery, you can enjoy a set-and-forget experience lasting up to 8 years with typical medium-heavy usage.
Deploying the D20 is fast and straightforward—it's wire-free and can be mounted in seconds. You won't have to worry about maintenance, as the D20 requires little to no upkeep throughout its lifetime. With fast and simple deployment, the D20 is the perfect solution for monitoring doors, windows, and other entry points with minimal labor.
Better weatherproofing—cover indoor and outdoor entry points with one device.
The D20 has an IPX4 weather rating, meaning it's protected from splashing water from any direction. Whether you're monitoring an outdoor gate or an indoor entryway, the D20 is durable and provides reliable monitoring of all your entry points.
With a compact and modern design, the D20 can cover a variety of environments, including:
Front entrances and exterior doors
Interior doors
Roll-up doors and garages
Refrigerator and freezer doors
Windows
Gates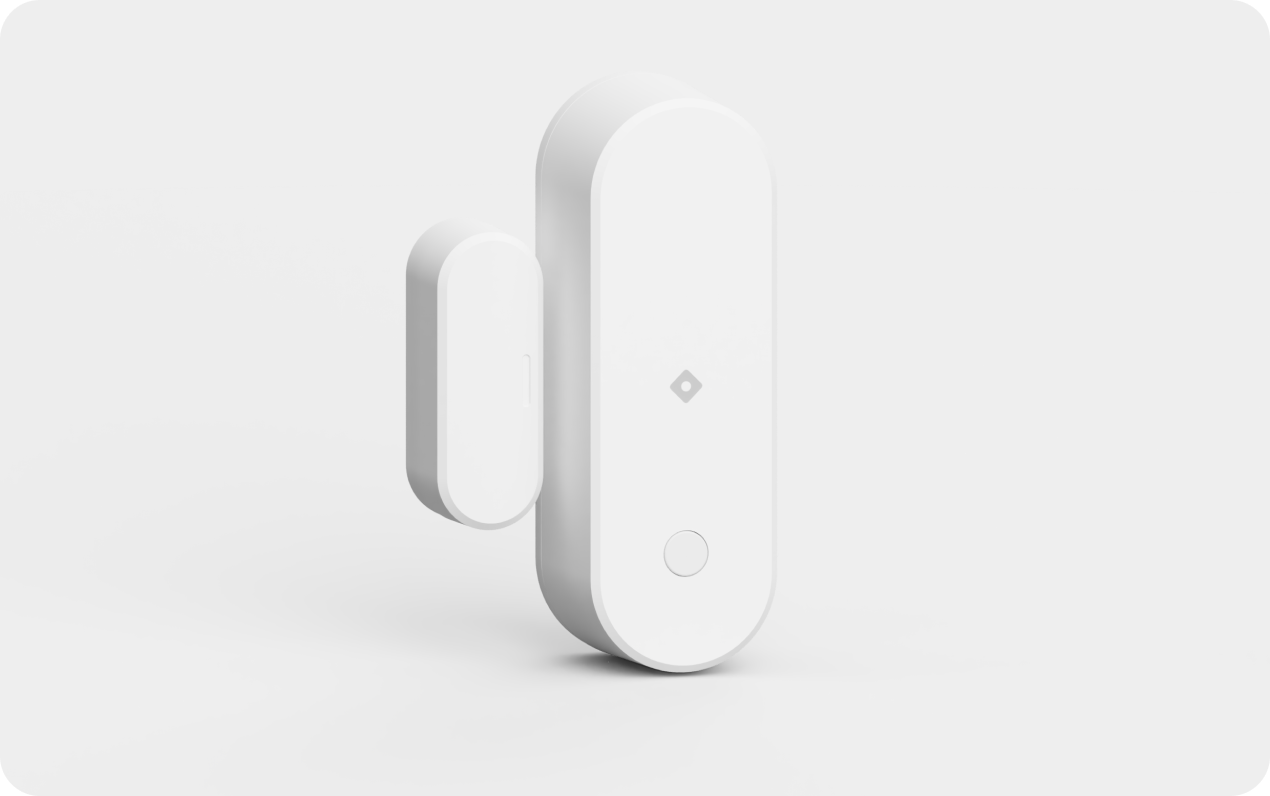 D20 Specifications
Dimensions: 77mm x27mm x 27.7mm
Range: Up to 100m
Power or Battery Type: Replaceable 1x3.6V ER14505 (Lithium Battery included)
Battery Life: 8 years with typical medium-heavy use
Mounting: Two-sided tape (included) or screws (included)
Weather Resistance: IPX4
Magnet Sensing Distance: Up to 20mm (0.78 inches)
Magnet Dimensions: 40mm x15mm x 15mm
Weight: 50.0g (w/ battery)
Certifications: USA (FCC)
Get Connected with Rhombus Smart Sensors
IoT sensors are a power tool for improving onsite security and streamlining operations. To learn more about Rhombus Smart Sensors and how they fit into your physical security strategy, reach out to the Rhombus team for a personalized demo.
The D20 and E15 are available today. For sales inquiries, trials, or more information, reach out to your preferred Authorized Rhombus Reseller or our sales team for more information.
In Case You Missed It
Rhombus Access Control is available for pre-order!
No wired internet? No problem. The new R230 WiFi Dome lets you easily secure locations where wired internet is unavailable or cost-prohibitive.