In today's fast-paced world, it's a top priority to safeguard your organization with a security system that is streamlined and efficient. That's why we're thrilled to announce the new B10 Smart Button, a versatile device that enhances physical security in emergencies and on a day-to-day basis.
The B10 is a discreet and programmable button with two modes: Panic Mode and All-Purpose Mode.  
"We are excited to launch the B10 Smart Button, which offers customers more flexibility and value from their existing security system," said Rickey Cox, Director of Product at Rhombus. "Our goal is to provide a versatile and customizable physical security solution that meets the unique needs of different industries and settings, and we believe the B10 Smart Button does just that." 
Panic Mode: One Touch to Accelerate Emergency Response
In Panic Mode, the B10 Smart Button can be used to quickly and discreetly call for help during an emergency. The B10 pairs seamlessly with Rhombus Alarm Monitoring, a service that provides real-time threat detection and 24/7/365 professional monitoring.
With a single touch of the B10 button, live video is instantly streamed to TMA Five Diamond Certified dispatchers, who will securely share essential information with first responders to enhance and accelerate the response.
Make emergency response faster.
Pressing the B10 in Panic Mode instantaneously notifies live professional monitoring agents that an emergency is in progress and shares a live stream from the associated camera. The agent will immediately dispatch emergency services and continue to monitor the situation via the cameras.
Agents coordinating with first responders is especially powerful because, in just a few seconds, they can securely share essential information from the Rhombus Console, including footage, livestreams, and location details, to enhance and accelerate the response.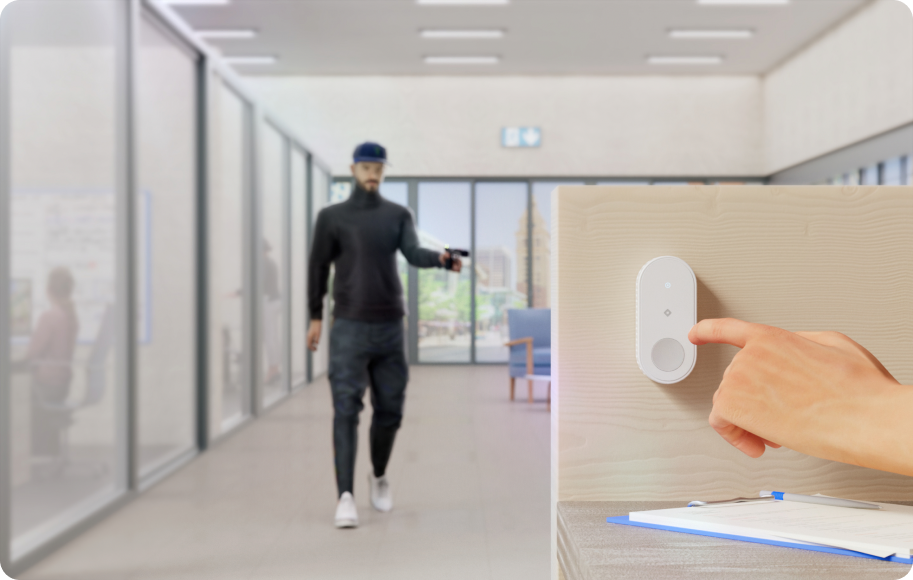 Call for help quickly and discreetly and focus on staying safe. 
The B10 is ideal for emergencies in which getting to a phone to dial 911 is too difficult or risky. The button streamlines emergency procedures and allows staff to focus on seeking shelter and safety. As a compact device with a lithium battery life of up to 8 years, it is easy to place in convenient and discreet locations, such as under a front desk or inside a safe room.
Once the button is pressed, agents work diligently to neutralize the situation and take necessary action. No further input is needed from the user, which allows staff to focus on remaining safe.  
Be prepared during a crisis.
Emergencies often trigger panic, anxiety, and slow decision-making. When a tense situation escalates, the B10 provides staff with a fast and straightforward solution to stay in control. There's just one simple step—press the button and know that help is on the way.
All-Purpose Mode: Customize and Control Your Environment
In All-Purpose Mode, the B10 Smart Button serves as the starting point of customizable security workflows that save time and simplify operations.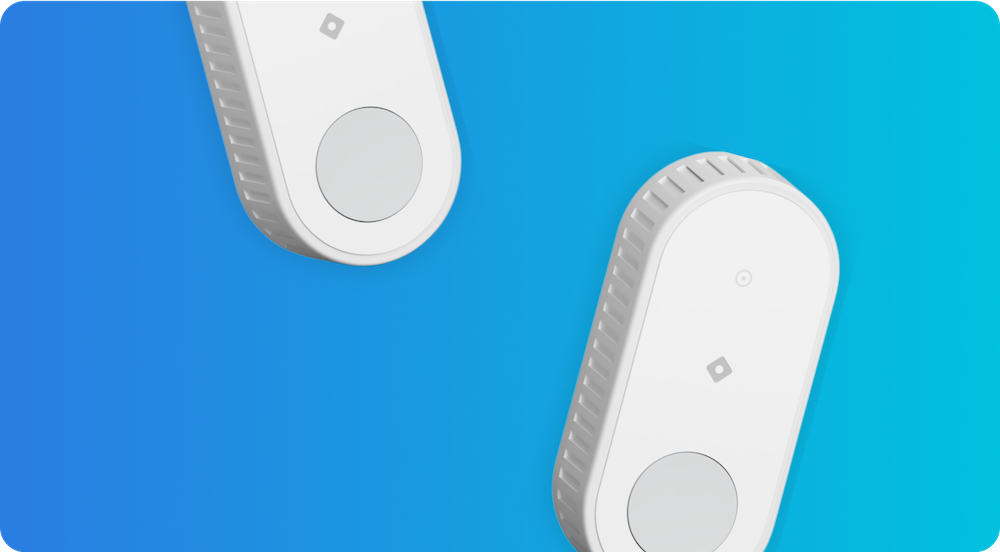 Create and trigger workflows with custom rules.
The B10 can be programmed with rules, such as a single press, double press, and long press, which will trigger a unique sequence of actions that can span across multiple devices.
The B10 can be programmed to:
Trigger a siren or message to broadcast through Rhombus' A100 Audio Gateway, attracting attention or signaling for help
Pair with existing door hardware to unlock doors and initiate building-wide lockdown protocols
Call for assistance in nursing homes, retail environments, and schools
Create an event tick in the video timeline to mark an incident and make it easy to find and review
Enhance access control to manage your environment.
The B10 is fully compatible with Rhombus Access Control, which enables organizations to centrally manage building access and credentials from anywhere. The B10 adds convenience and flexibility to access control, allowing users to unlock doors and initiate lockdown protocols with a simple button press. Staff can screen visitors and control the flow of traffic in and out of a building by using the B10 as an added touchpoint. 
Added Flexibility and Functionality on a Unified System

The B10 Smart Button brings new ways to interact with your Rhombus devices. As part of the unified Rhombus platform, the B10 helps organizations create a full-featured security ecosystem on a single pane of glass. It communicates with Rhombus devices via Bluetooth, providing an extra layer of security and management to the suite of sensors and cameras.
Tailor the B10 to seamlessly integrate with your current workflows and enhance your security ecosystem with the convenience of one-touch control.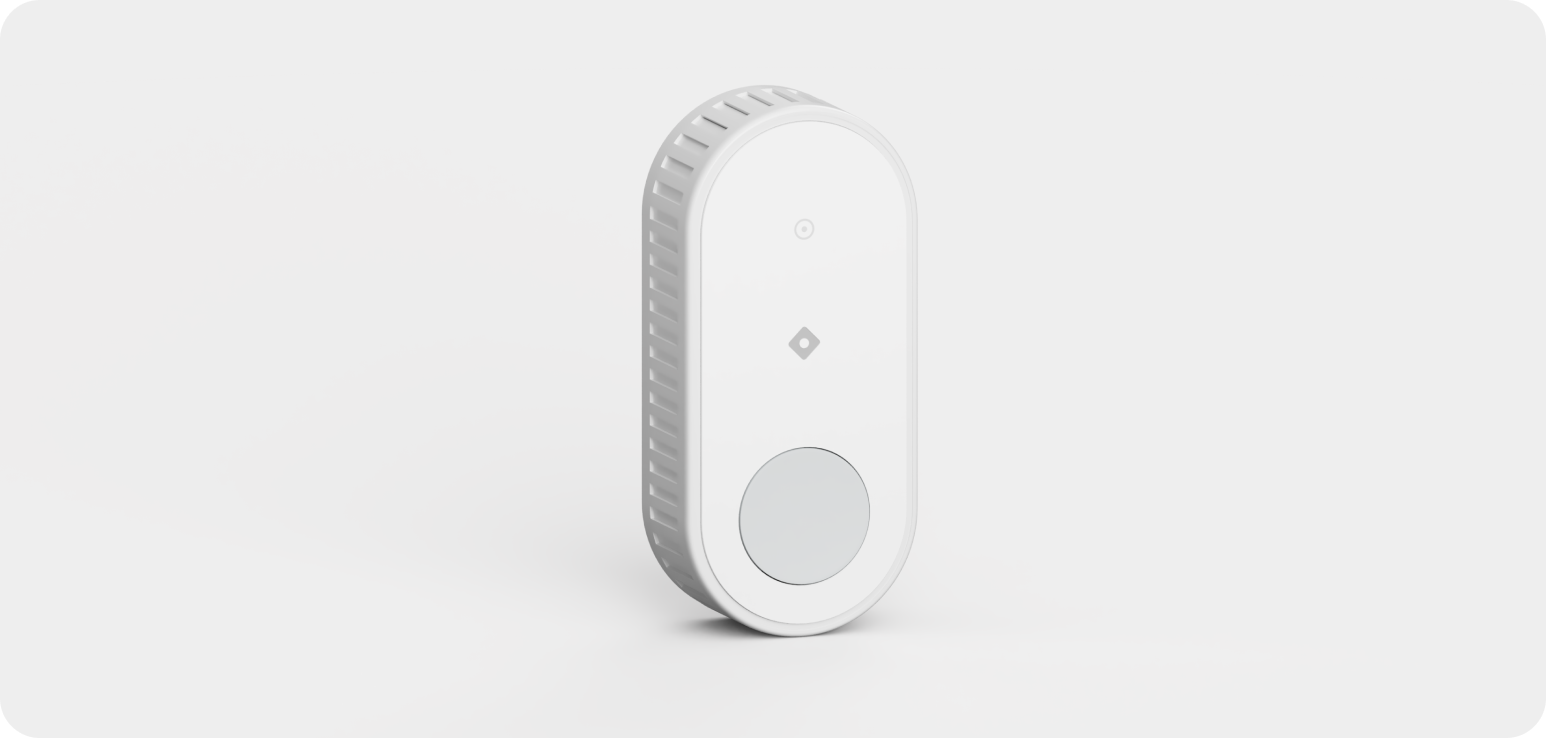 B10 Smart Button Specifications
Dimensions: 70mm (2.76in) x 32.2mm (1.27in) x 18.2mm (0.72in)
Weight: 32.4g (with battery)
Range: Up to 100m (328ft)
Power or Battery Type: Replaceable 2x1.5V AAA (Lithium Batteries included) 
Battery Life: Up to 8 years 
Function: Supports short-press, long-press, and double-press button functions 
Mounting: Two-sided tape or screws
Weather Resistance: IPX4 
Certifications: NDAA, FCC
Get Started with the B10 Smart Button
The B10 Smart Button is a powerful and versatile tool for improving onsite security and streamlining operations. To learn more about how the B10 fits into your physical security strategy, reach out to the Rhombus team for a personalized demo.
The B10 is available for pre-order today. For sales inquiries, trials, or more information, reach out to your preferred Authorized Rhombus Reseller or our sales team for more information.