Every month, Rhombus releases new features and optimizations designed to make security management efficient, flexible, and user-friendly.
June's updates are here to help you save time during investigations, give you more granular control over notifications, and securely share live footage while protecting data privacy.
Let's dive into the exciting new features and enhancements in store!
Set Notifications by Location & Device + Create Default Settings for New Users
To make managing your security proactive versus reactive, Rhombus sends real-time alerts based on AI analytics and automatic health monitoring. This lets you receive notifications with synchronized video footage for the events you care about.
Now, you can set up notifications at a granular level. Users can adjust their alert notifications based on locations and devices, ensuring they only receive alerts that are relevant to them. This prevents you from being overwhelmed by alerts that don't apply to you.
Previously, notifications were directly tied to access levels. If a user had access to a location, they automatically received all types of notifications associated with that location.
Not all users need the same notifications. For example, IT staff may want all alert notifications (e.g., disconnects, low battery, etc.) to ensure their environment is in good health; a front desk employee may only want doorbell notifications; or a security guard may only need alerts for specific entryways and parking lots.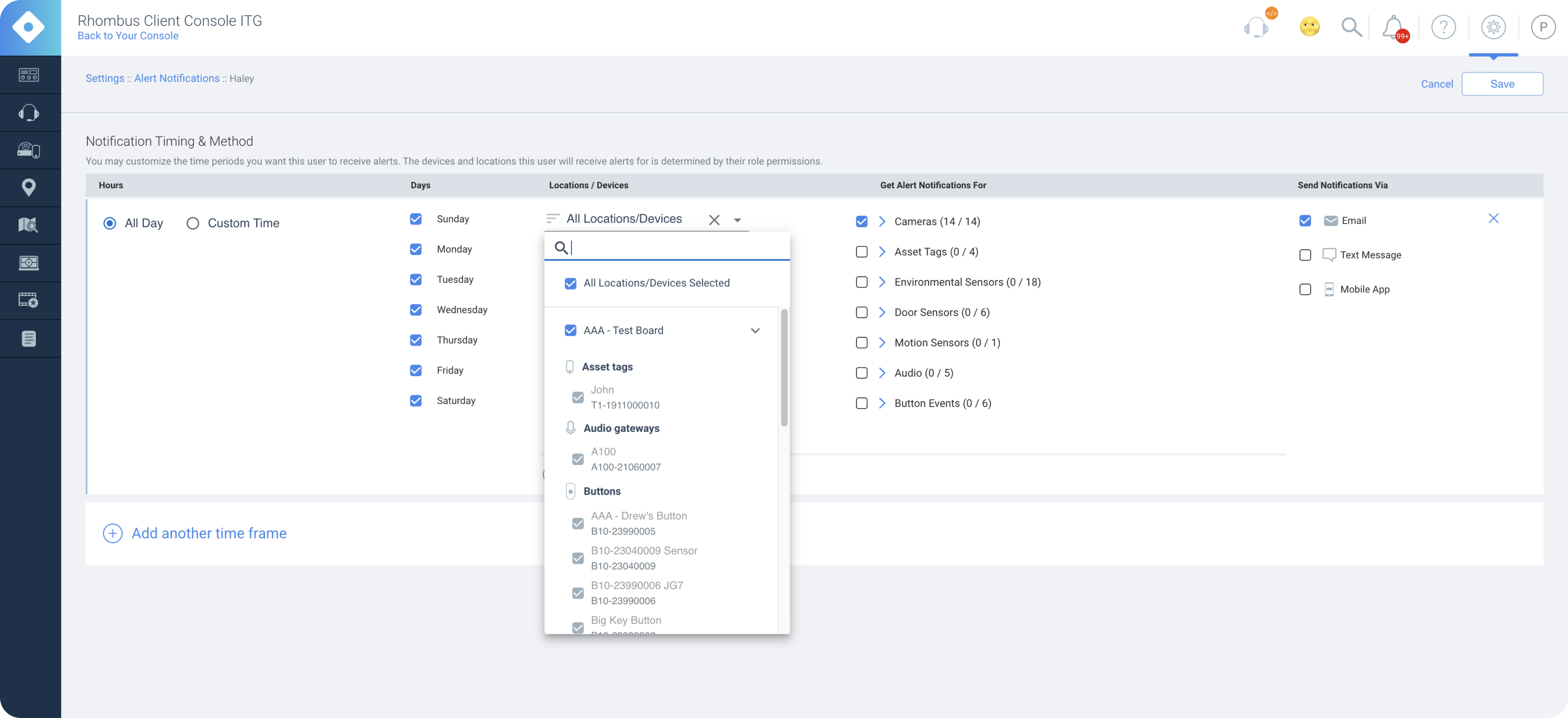 In addition, admins can now create default notification settings for new users. Choose whether new users get notifications by default and specify which ones they should receive. This makes onboarding simpler, cleaner, and more seamless.
Use This Feature To:
Reduce notifications and eliminate alert fatigue without restricting access.
Save time and eliminate operational clutter by ensuring that users receive only the alerts that are relevant to them.
Simplify onboarding by ensuring new users aren't overwhelmed with notifications.
Event Search Actions: Manage Analytics Without Losing Your Place
Rhombus comes with a suite of AI analytics, including facial recognition, license plate recognition, region search, and color search. Many users rely on these analytics to speed up investigations and facilitate proactive security alerts.
In the past, if you spotted an unsaved face or suspicious vehicle while viewing footage and wanted to add a name or tag, you had to leave the video player and open a separate Console page.
Now, you can manage Faces and License Plates directly from the video player. Edit, label, and set up alert notifications for suspicious activity on the fly, enhancing data accuracy and boosting security. This experience is much more intuitive and saves a ton of time for users who rely on Facial Recognition, License Plate Detection, and Labeling to enhance their security.
Use This Feature To:
Save time by managing Faces and License Plates from within the video timeline.
Manage AI analytics and labels on the fly without losing your place.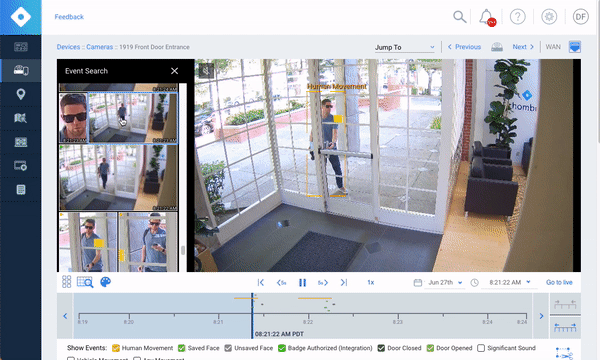 Set Live-Only Viewing Permissions
The Rhombus Platform provides multiple ways to share video streams, footage, and management permissions depending on the amount of access you want a user to have.
This month, we've added a new access level that admins can assign to users: Live-Only permission. This is the most restrictive permissions level to date that still allows users to view camera footage.
As the name suggests, a user with Live-Only access to a camera can view live streaming footage, and nothing else. At this permission level, historical footage, alerts, tick marks in the timeline, and all features associated with past footage are blocked.

Live-Only permission is ideal for sharing tightly controlled access to video streams with staff, so they can view live footage for security purposes without having access to sensitive data or management tools.
For example, schools can give View-Only permission to security guards or the local police department. This allows them to quickly and easily access camera feeds during a potential emergency, while ensuring they cannot view or affect anything else in your system. Because Rhombus has unlimited user seats, you can create logins for as many people as you need and give them all the appropriate permission levels.
Use This Feature To:
Increase security by providing live camera viewing to security staff, without sharing unnecessary system access.
Protect data and system privacy by sharing exactly the amount of access required, no more and no less.
In Case You Missed It