Every month, Rhombus releases new features and optimizations designed to make security management more efficient, powerful, and user-friendly.
April's product updates give you more control over video walls, and include new features for the A100 Audio Gateway that make it easier to communicate at scale and detect abnormal audio.
Pin Cameras to Video Walls
Video walls enable your team to see the whole picture at a glance. They are a vital part of live monitoring, allowing you to view and manage livestreams from multiple cameras on a single display. Video walls often cycle multiple camera feeds through a larger, easy-to-view display so operators can better identify patterns, detect anomalies, and make informed decisions based on the footage.
In the Rhombus Console, you can create and save unlimited custom video walls. This is an efficient way to organize and group important camera feeds; video walls are ideal for creating a 'control room' experience that enhances situational awareness for security personnel and operators. With a larger-than-life display, you can have a panoramic view of your surveillance area, enabling you to quickly spot potential security threats and respond proactively to keep your premises safe and secure.
Now, you can pin specific camera feeds to your video wall while other feeds cycle through, allowing you to keep the most important video feeds prominent and visible on your screen.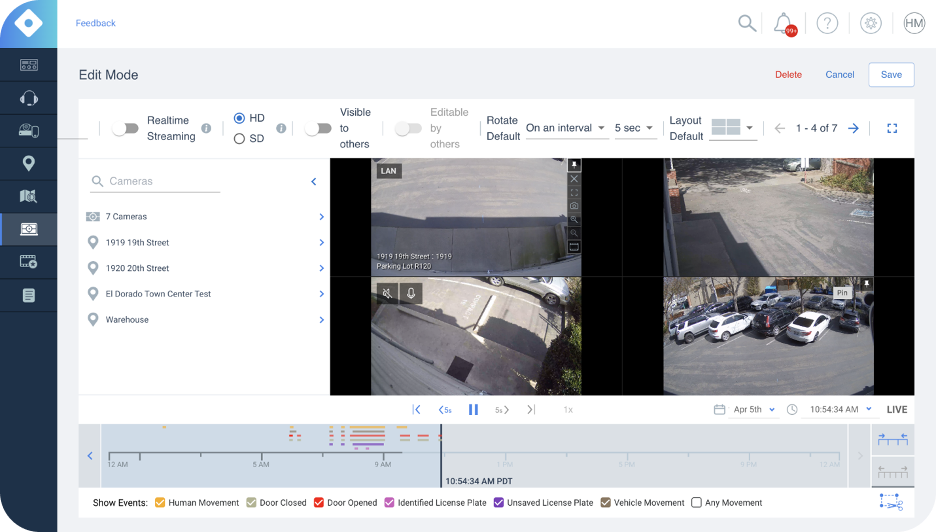 Customize video walls with the 'Pin' icon, located in the upper-right corner of each camera feed.
Use This Feature To:
Enhance onsite security by keeping your most vital camera feeds front and center on a video wall.
Simplify live monitoring by making it easy and intuitive to keep an eye on important areas— add persistent pins to your saved video walls, or create temporary pins for single viewing sessions.
Improve collaboration by sharing video walls with persistent and temporary pins.
For example, consider a store that has a video wall with a 2x2 layout, cycling through feeds from 10 different cameras. At any given moment, four camera feeds are displayed on the screen, ensuring there's enough space to clearly see details, and all cameras gradually rotate through the wall. However, the store operators also want to always keep the cash register camera feed visible, in order to continuously monitor that critical area. With the new camera pinning feature, operators can lock the chosen camera feed in place on the video wall, ensuring that the livestream is prominently displayed at all times, front and center.
How It Works
Persistent Pins: You can set persistent pins when you Create or Edit a video wall. Select Rotation on an Interval or Based on Motion, and pin the desired cameras by clicking on the 'Pin' icon on the right tool bar of the video feed.
Temporary Pins: Create a temporary pin by navigating to an existing video wall and clicking the 'pin' icon on the desired camera feed. This pin will only last for the duration of your viewing session; it will disappear when you exit the page. You can also click Revert at the top of the video wall to clear temporary pins.
Pins in Shared Video Walls: While viewing a shared video wall, all persistent pins (pins placed during the editing and creation process) will be kept. Viewers can temporarily remove and place new pins. You can also share a video wall that has temporary pins.
Broadcast Audio Across Multiple Devices
With Rhombus' A100 Audio Gateway, organizations can capture synchronized video-audio evidence and add smart audio recognition to their security platform. The A100 also gives users the power to communicate through the sensor—you can amplify live messages, broadcast pre-recorded messages, and have two-way conversations.
Now, you can broadcast the same message simultaneously across multiple A100s at a location. This enables you to communicate efficiently at scale throughout your organization. For added convenience, this feature is available as a module on your Dashboard—add the Broadcast dashlet for quick and easy access.
For example, you can use this feature to:
Broadcast a pre-recorded message that your business will close in 15 minutes.
Read live morning announcements throughout a school.
Amplify emergency evacuation instructions across your entire organization.
Use This Feature To:
Communicate at scale across a location.
Make targeted audio announcements by choosing exactly where to broadcast your messages.
Save time and simplify operations by adding the Broadcast feature to your Dashboard.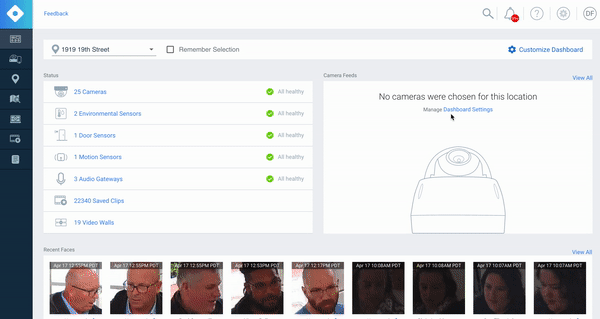 How It Works
The simplest way to use the Broadcast feature is to add it to your Dashboard as a dashlet. You can also find the feature on the Location page under Audio Gateways. To make an announcement, select one or more A100s at your location. Your announcement will be amplified through all chosen devices. Then, choose from three broadcast options:
Click-To-Talk: Start speaking live—immediately amplify your message in real time.
Record: Record your message and preview it before broadcasting—speak into the Console, then listen to it back and either broadcast it or re-record.
Pre-Recorded Audio: Select a pre-recorded message from your audio library to broadcast.
Detect Glass Breaks (Beta)
The Rhombus A100 is an IoT sensor that provides smart audio recognition. It automatically analyzes audio data, recognizes audio events, and indexes them. With it, you can monitor your environment for abnormal audio and receive real-time alerts based on keywords, phrases, noise levels, and more.
Now, Glass Break Detection is available in the A100's suite of AI Audio Analytics! The A100 can detect glass breaks in windows, doors, and other panes of glass in your environment. Structural glass breaks can occur for many reasons—vandalism, break-ins, and natural disasters. Glass break detection enables you to be notified in real time when breakage occurs, so you can immediately investigate and intervene as needed.
Note that this feature detects structural glass breakage, such as the kind that occurs in windows and doors. It does not detect breakage in cups, bottles, or other handheld glass containers.
Use This Feature To:
Improve security by detecting suspicious audio—glass breakage—in real time.
Save time during investigations; glass breaks are automatically flagged in your video timeline, making it easy and fast to find the incident.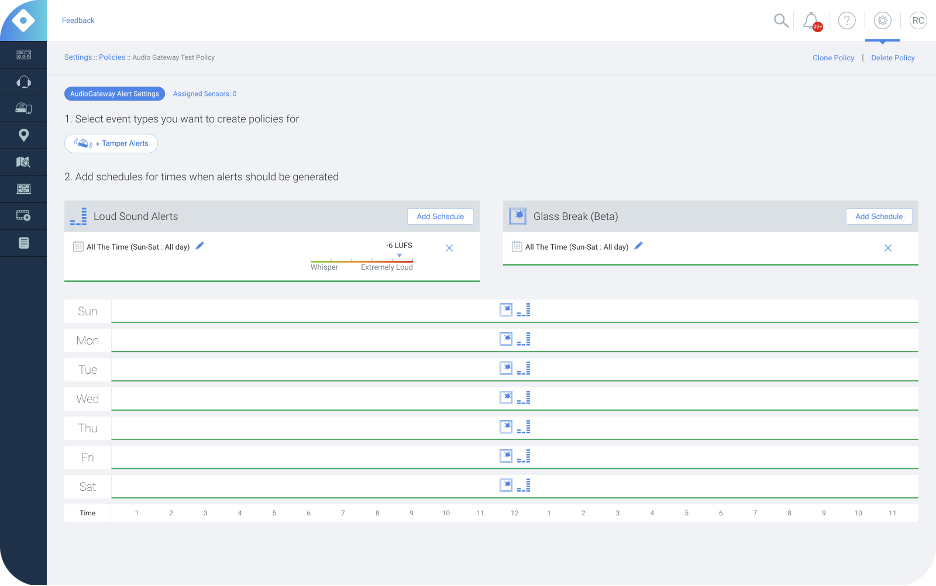 Create custom schedules for glass break detection and alerts.
How it Works
Glass break detection is available via the A100 Audio Gateway.
To enable this feature, simply add Glass Break events to your Alert Policies and choose a schedule. If you want to receive real-time alerts, add Glass Break events to your personal Alert Notifications and choose to be notified via email, text, or Rhombus Mobile App.
Beta: Rhombus is currently developing deployment recommendations for Glass Break Detection, including fine-tuning its range of detection. This feature is considered in beta until these recommendations are finalized.
In Case You Missed It
Rhombus Access Control is available for pre-order!
No wired internet? No problem. The new R230 WiFi Dome lets you easily secure locations where wired internet is unavailable or cost-prohibitive.