Modern-day physical security is inherently connected to the issue of cybersecurity and data privacy. Breaches cause the loss of significant money, time, and reputation, and enterprise companies strive to minimize this risk.
Rhombus' 2023 State of Modern Physical Security Report sheds light on this year's cybersecurity trends and priorities with insights sourced from experts and decision-makers in the physical security industry. It's clear from the data that cybersecurity is not a fleeting concern but a permanent reality for the physical security industry.
Want to know what key cybersecurity trends will be this year? Read Rhombus' top statistics and predictions below.
Data comes from the 2023 State of Modern Physical Security Report. Download the full report here.
Cybersecurity is top of mind in 2023
Physical security standards are constantly evolving, but cybersecurity remains a high priority for enterprise organizations. Because cybersecurity deals with data, privacy, and security, organizations today find that cybersecurity and physical security—especially video surveillance—are intrinsically connected.
How are enterprise organizations prioritizing cybersecurity?
76.7% of respondents consider cybersecurity to be a high priority.
Survey respondents ranked cybersecurity the second-biggest challenge of 2022.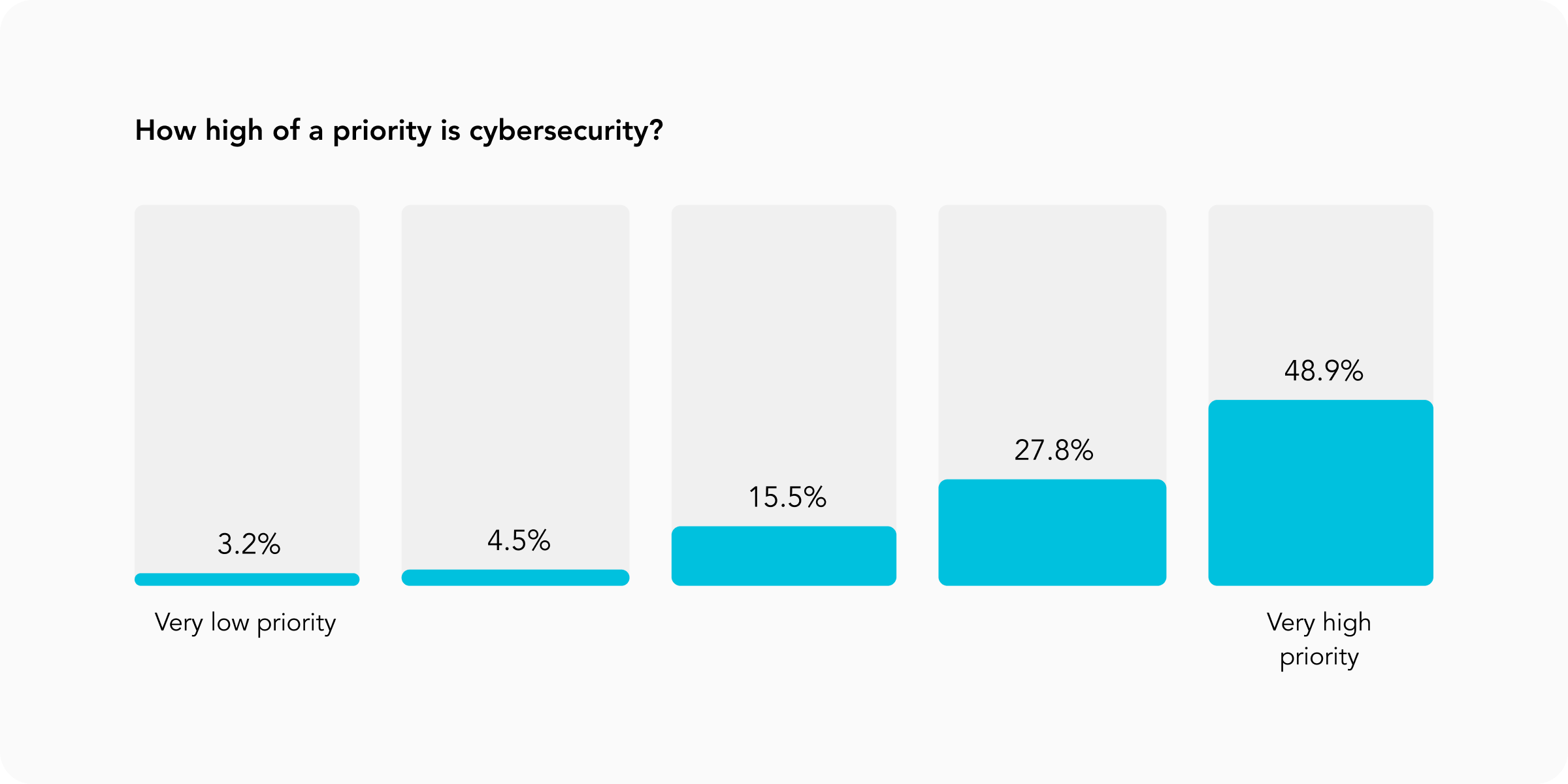 The top challenge of 2022 was the 'safety of items and space,' i.e., problems with theft, vandalism, and break-ins. This is expected for the physical security industry, which by definition, is concerned with protecting physical assets. It's interesting to see cybersecurity rated the second most concerning challenge of 2022. Modern physical security is increasingly concerned with protecting digital assets as well as physical assets.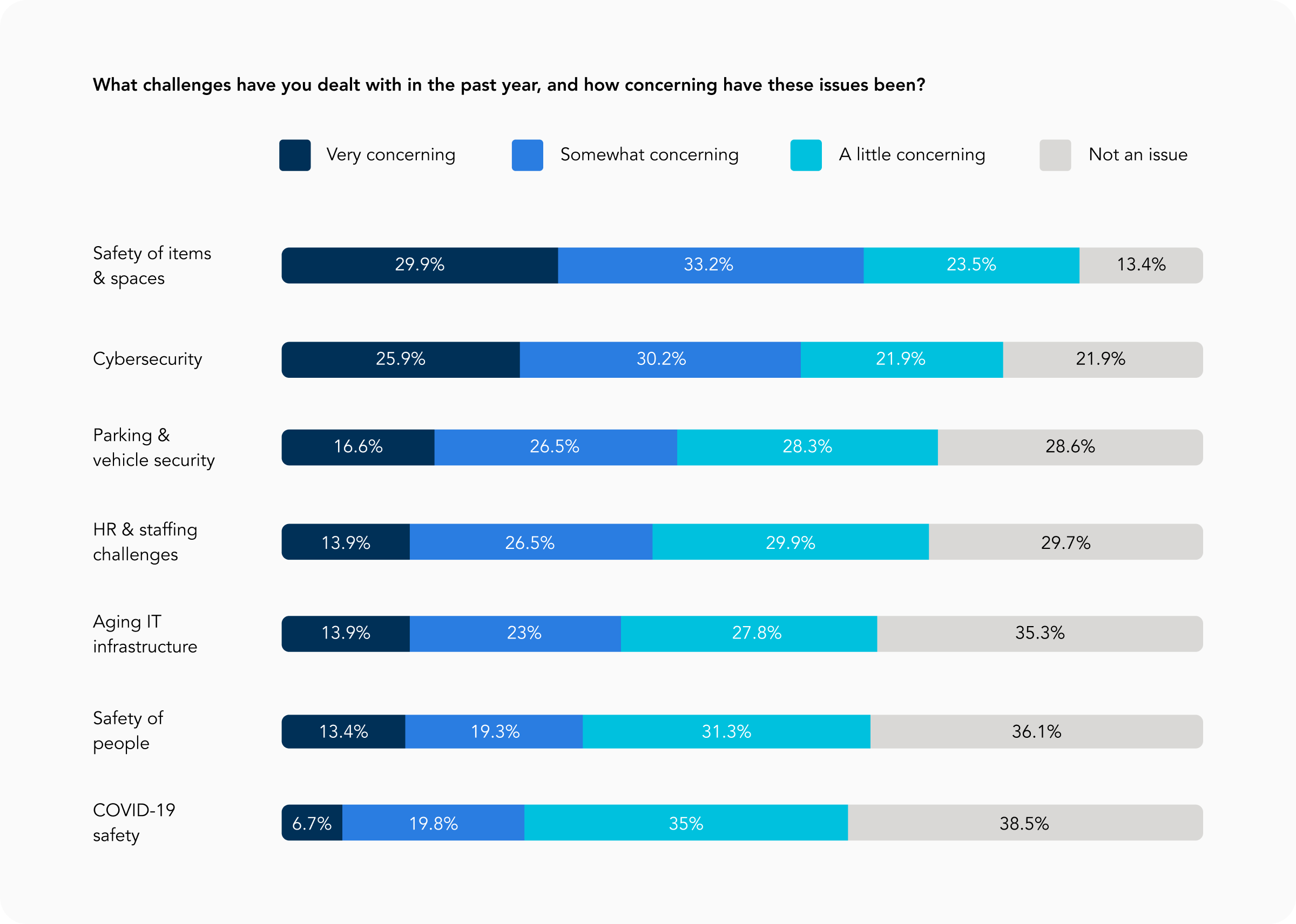 Data from the 2023 State of Modern Physical Security Report
Companies are adopting cybersecurity technology at a high rate
It's one thing to say cybersecurity is a priority and another to back up that belief with action. Survey data shows that cybersecurity concerns are prompting real action, with nearly two-thirds of respondents saying their company adopted a new cybersecurity technology over the past year.
What does the emphasis on cybersecurity look like in practice?
62% of respondents report that their organization adopted technology related to cybersecurity in 2022.
An additional 16.3% have cybersecurity improvements on the roadmap.
Organizations are taking tangible steps to improve cybersecurity, and this trend is projected to continue into 2023.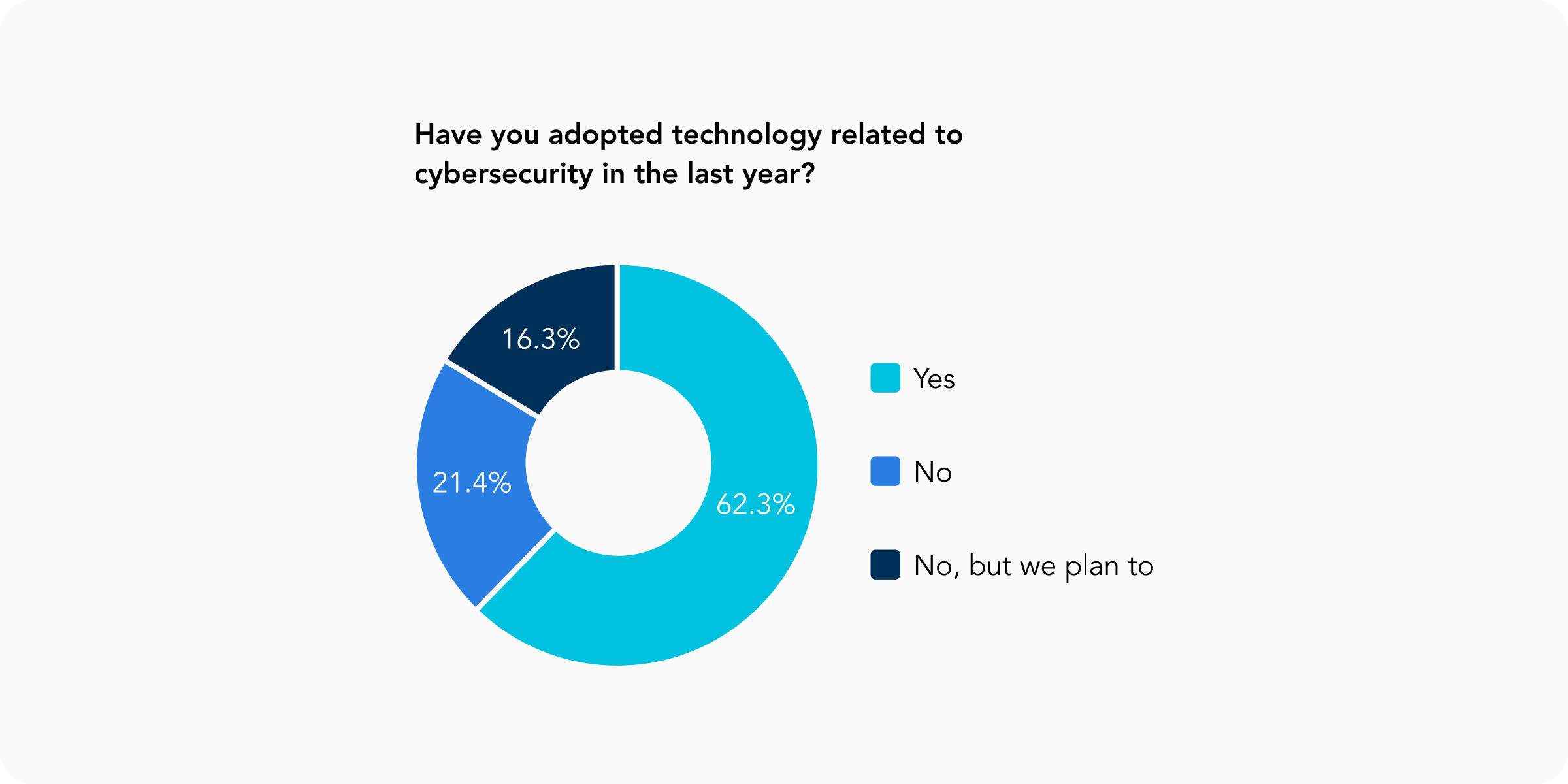 Data from the 2023 State of Modern Physical Security Report
Cybersecurity is the #2 most important priority in technology selection
Choosing a new physical security technology is a long-term commitment. When organizations evaluate new technology, concerns about data privacy play a key role.
How does cybersecurity influence technology selection?
61.2% rate cybersecurity as 'very important' to technology selection.
Cybersecurity is the #2 most important criterion in technology selection, second only to ease of use.
As we dive further into the data, survey responses indicate that the top three most important considerations when choosing a new physical security technology are:
Ease of use
Cybersecurity
Future-proof
Notably absent from this top-three list is feature set. According to the data, cybersecurity is even more important than feature set when it comes to selecting a physical security solution.
Expect organizations in 2023 to prioritize data safety and healthy cybersecurity protocols. Due diligence is not only a question of, 'does this technology solve our problems?' but 'does this technology solve our problems while protecting our data?'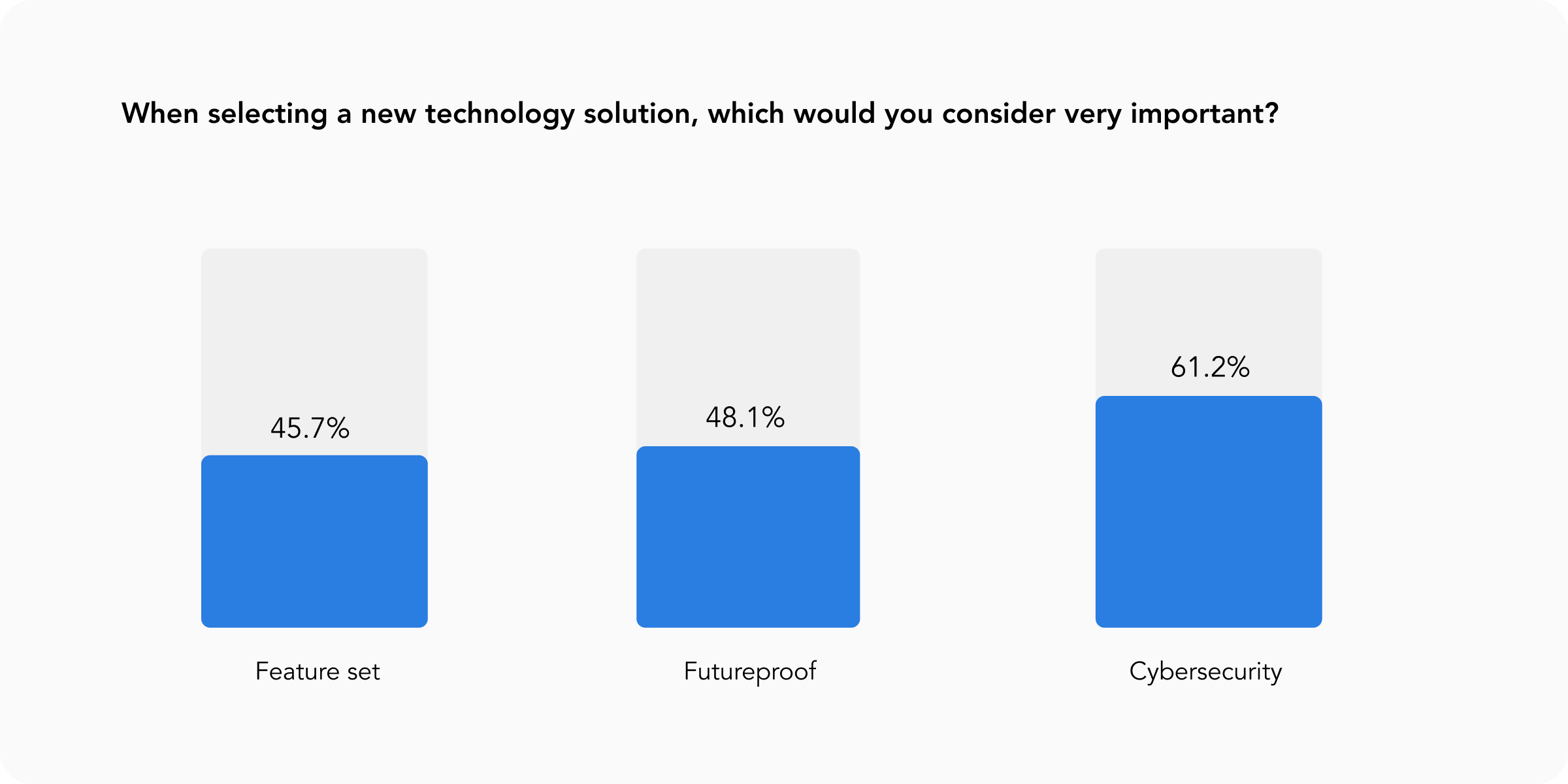 Data from the 2023 State of Modern Physical Security Report
Cybersecurity concerns are influencing vendor selection
Cybersecurity concerns influence which physical security vendors businesses are willing to partner with. Organizations are wary of using a platform that has experienced a cybersecurity breach.
How does cybersecurity influence vendor selection?
45.8% of respondents are unlikely or very unlikely to work with a vendor that has experienced a breach.
30.7% say they would evaluate potential vendors on a case-by-case basis.
Organizations are rightfully wary of partnering with a vendor that has experienced a cybersecurity breach. No matter how diligently your end users follow cybersecurity best practices (e.g., proper password management, granular user permissions), if your technology provider is unsecured, your entire organization is unsecured.
Many organizations are paying close attention to the track record of potential partners, and this level of due diligence is likely to hold steady into the following year.
What do cybersecurity best practices look like for cloud-based physical security platforms in 2023?
This article has covered the prevailing attitudes and trends about cybersecurity, and the bottom line is that robust cybersecurity is a high priority.
So, what does robust cybersecurity look like in a physical security context? High-level best practices include:
End-to-end encryption of all media
Mutual authentication, 2FA, man-in-the-middle attack protection
Strict data privacy protocols — system access must be explicitly granted, no 'super admin' mode
SOC 2 compliance in data centers
Automatic health monitoring
Automatic signed and verified firmware updates
Regular third-party updates
NDAA-compliant hardware
For a detailed breakdown of cybersecurity best practices, see The Ultimate Guide to Cybersecurity for Cloud Video Surveillance & IP Security Cameras.
Cybersecurity trends for 2023 and beyond
Cybersecurity should have a place on every organization's roadmap. Cybersecurity is an ever-present concern, and data vulnerabilities should never catch a business off guard.
All organizations should incorporate cybersecurity into their security strategy, whether that means adopting new cybersecurity technology or using it as a criterion for evaluating vendors and new solutions.
If you're interested in secure video surveillance for your organization, Rhombus can help. With decades of cybersecurity experience and a pristine track record, Rhombus protects your data so you can enjoy complete security and peace of mind. Learn more by requesting a personalized demo with a member of the Rhombus team.