Increasing Safety & Visibility at a Community Nonprofit
Our IT and security staff absolutely love Rhombus. They tell me that it's the best system they've ever worked with and they've been doing this for 20+ years.
- Rob Zimprich, CFO University Area CDC at UACDC
Join a Demo!
Learn how Rhombus can deliver a better security experience for your organization.
UACDC (University Area Community Development Corporation) is a 501(c)(3) nonprofit that serves at-risk and underserved neighborhoods in the University Area of South Florida. Their mission is sustainable children and family development, crime prevention, and commerce growth. UACDC supports residents, families, and businesses in the area by providing safe community spaces, educational services, cultural arts programs, and dozens of other services that enrich the local community.
The main UACDC facilities cover 28 acres and include a 50,000 ft2 community center with a playground, classrooms, gym, and more. They have two apartment complexes and two park complexes with playgrounds, sports fields, and teaching spaces. With 80,000+ visitors each year, many of whom are children and teenagers, UACDC wanted a video security system that would increase visibility and ensure that UACDC was a safe haven for all guests.
When UACDC received a new grant, CFO Rob Zimprich wanted to use the opportunity to completely overhaul their outdated video security system.
UACDC is dedicated to providing a safe, peaceful space for the community. Rob knew they needed a video security solution that would help support this mission, and their old NVR system wasn't up to the task. Rob began searching for a modern, cloud-based solution that would increase visibility, efficiency, and safety.
An Outdated, Patchwork System
Our building is about 15 years old and the system we had in-place felt like technology from that time. It was awful.
UACDC had an NVR system that required an excess amount of hardware. Their security control center was "an absolute nightmare, with wiring everywhere and equipment that no one on the team knew how to use", said Rob.
We knew we wanted to move away from a traditional system. We kept band-aiding the old system—when cameras would go out, we'd spend a ton of money on a camera that was ONVIF-compatible, but the functionality and performance was very underwhelming.
Security Guards Tied to Their Desks
UACDC has security guards onsite at all times. However, they spent most of their time stuck in the camera room, watching live footage on monitors.
Rob ideally wanted the guards to walk around and engage with guests to make them feel more comfortable and to promote community engagement. Since UACDC's previous system lacked remote access and live alerts, guardsfelt that they had to stay in the security office to monitor feeds.
Unpredictable Implementation Timeline
As a nonprofit, UACDC depends on grants and similar sources of funding for projects. Rob knew they likely would not have the funding to complete the entire project in one fell swoop.
The solution needed to be flexible, cost-effective, and easy to scale so that implementation could occur in multiple phases and upfront hardware costs were kept to a minimum.
"Our IT and security staff absolutely love Rhombus. They tell me that it's the best system they've ever worked with and they've been doing this for 20+ years."
Rob evaluated several cloud video security systems and was blown away by Rhombus' platform and customer service. "When I first spoke with the Rhombus team, I felt like they genuinely cared about our organization and the problems we were trying to solve—they weren't just trying to sell us cameras, said Rob. After trialing other cloud systems, Rhombus' product and performance were far superior. We were impressed."
UACDC now has a reliable, cloud-based video security system that transformed how they manage their physical security. Security guards and program managers now have visibility across their facilities, allowing them toeffectively protect their tens of thousands of visitors.
No NVRs for Greater Efficiency
Rob knew right away that he wanted to "get away from NVRs, DVRs, all of it</q> in favor of a cloud solution. Video security is moving to the cloud, so we wanted to ensure that our new system was future-proof," said Rob.
With Rhombus, UACDC simplified their video security infrastructure, reduced IT labor costs, and now enjoys native remote access, cloud back up, permission-based access, and powerful performance.
"Since upgrading, our security guards can now leave their desks and walk around our facilities. Remote access and alert notifications have greatly improved our efficiency—our staff can now check video feeds from their phone, and if something needs their attention, they'll receive an alert to immediately address it. It's helped us maximize our current resources without increasing our costs."
Greater Safety with Motion Detection & Facial Recognition
Youth safety is a major priority for UACDC. The surrounding neighborhood is rough, and for many kids, the nonprofit's grounds are the only safe place where they can spend time before or after school. UACDC now has a reliable video security solution that provides high-resolution video and comprehensive coverage across their dynamic environments, including parking lots, playgrounds, classrooms, gyms, and more.
With Rhombus AI Analytics, UACDC was able to identify motion caused by trespassers hopping over fences as well as vehicles illegally parking overnight. Additionally, UACDC was able to use facial recognition to upload faces and flag individuals as authorized or unauthorized to enhance safety measures. For example, law enforcement notifies UACDC when sexual predators move into the area. Rob's team uploads their photos into the videosecurity system and security guards will now receive proactive alerts if an offender enters the premises.
Easily Scalable & Upgradeable
As a cloud solution, Rhombus has been incredibly easy to scale and UACDC has full control over when and where to expand. They can add cameras and upgrade without any limitations. UACDC has already completed three deployment phases and is continuing to expand cameras across all of their facilities as well as neighboring properties for complete coverage.
People Counting for County Reports
As a nonprofit, it's incredibly valuable for UACDC to demonstrate how many people utilize their facilities and services.
UACDC submits a monthly report to the county of total visitor count. Before Rhombus, they had no way to count the total number of guests who visited their indoor and outdoor facilities. People Counting Analytics helps UACDC gain an accurate picture of the true number of people their organization serves. Now Rob can share these numbers with the county to demonstrate how valuable UACDC programs are to the community. Rob also shares this data with the organizations who helped fund the development of park sites, so they see how many people use and enjoy the facilities that they supported.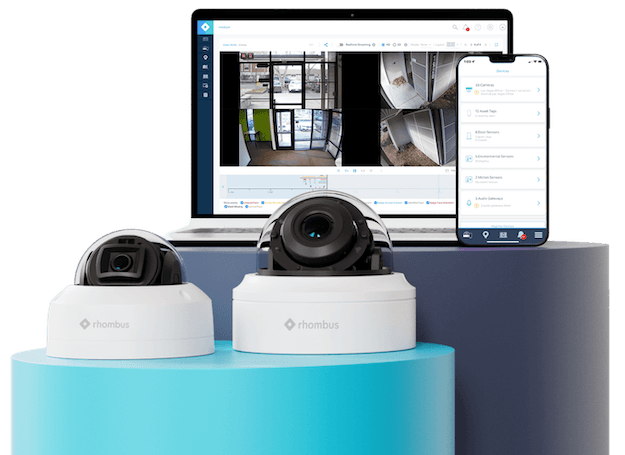 Try Rhombus for Free!
See why school districts, cities, and Fortune 500 companies use Rhombus.
Start Trial