Increasing Safety at Healthcare Clinics in Africa
The quality of the Rhombus cameras and overall system is simply outstanding. AHF prides itself on being nimble, and Rhombus adapts to every environment we throw at it, including very challenging environments. It's robust, flexible, and easy to install—the perfect technology to deploy across our clinics.
- RC Miles, Global Director of Safety & Security at AIDS Healthcare Foundation
Join a Demo!
Learn how Rhombus can deliver a better security experience for your organization.
About AIDS Healthcare Foundation
Founded in 1987, AIDS Healthcare Foundation (AHF) is the largest provider of HIV/AIDS medical care in the world. AHF serves over 1.7 million patients across 45 countries and provides cutting-edge medicine, advocacy, and healthcare to patients, regardless of ability to pay.
In Africa alone, AHF operates in 13 countries and serves nearly 800,000 HIV patients. To better protect these clinics, AHF partners with Rhombus to deploy modern video surveillance and physical security for their facilities across Africa.
For AIDS Healthcare Foundation's clinics in Africa, safety is the number one priority. Video security helps them protect doctors, nurses, patients, and staff from civil unrest and patient hostility. Before Rhombus, each clinic used a different local system. Slow, siloed, and complicated, these old systems left staff ill-equipped to anticipate and respond to threats.
Slow, Inaccurate System Risked Safety
The work that AHF performs in Africa is critical, but comes with risks. Their previous video security systems were slow, sharing capabilities were limited, and information typically wasn't accurate. This severely restricted the staff's ability to anticipate and react to dangerous situations such as patient aggression and civil unrest, compromising clinic safety.
"The single biggest challenge for our clinics in Africa is civil unrest. It happens quickly, and our previous systems did not provide accurate or timely information," says RC Miles, Global Director of Safety and Security at AIDS Healthcare Foundation.
Disjointed, Complicated Systems
AHF's video security infrastructure in Africa was a patchwork of disparate local systems that were chosen based on short-term convenience rather than long-term strategy or overall performance. The result was an inefficient and disjointed security operation that was complicated to manage and difficult to scale.
AIDS Healthcare Foundation operates in challenging environments across Africa where certain types of infrastructure are minimal. Reliable internet access is not always guaranteed, and bandwidth comes at a premium. AHF needed a system that provided reliable and high-quality visibility in areas with limited resources.
AIDS Healthcare Foundation has deployed Rhombus throughout 40 clinics in Africa and is expanding to 100+ clinics over the next year. With Rhombus, AHF has standardized their video security with a robust, easy-to-use system that improves staff safety across all clinics, including in remote and resource-limited areas. Rhombus helps AHF stay one step ahead of unsafe situations, ensuring that their mission to provide crucial healthcare services remains uninterrupted even in the face of adversity.
"Rhombus is a force multiplier. We are able to assess situations faster, with fewer people involved, which improves the protection of our staff." says RC Miles, Global Director of Safety and Security at AIDS Healthcare Foundation.
Protecting Doctors, Nurses, and Clinic Staff
Safety is AIDS Healthcare Foundation's top concern. Many clinics face the threat of civil unrest in the surrounding areas, where mobs can pose a serious danger. In these high-stakes situations, every second counts. AHF relies on the cutting-edge technology of Rhombus to swiftly and seamlessly monitor their clinics, detect potential threats in real time, and take proactive measures to safeguard their clinics and the people within.
"Rhombus gives us the ability to have multiple people view footage in a quick fashion, helping us make timely decisions to keep people safe," says RC Miles.
Faster Decision-Making and Increased Safety with Real-Time Investigations
With Rhombus, AHF staff can make informed risk assessments in real time. Rhombus' simple interface, high-quality livestreams, and intelligent alerts enable AHF to rapidly gain and share detailed video information. This heightened visibility allows them to assess the safety of their surroundings and take prompt action to protect their employees and patients.
Easy to View and Share Footage
AHF loves how quickly they can view and share video and livestreams with Rhombus. As a centralized cloud platform, Rhombus empowers AHF staff to access critical video information from any device, anytime, anywhere. With the ability to instantly share footage and livestreams through URL, SMS, and email, AHF's employees can swiftly collaborate and respond to developing crises in real time.
Smooth, High-Quality Livestreams
"The quality of the camera is incredible, and the picture quality of the footage outstanding," says RC Miles, Global Director of Safety & Security. With high-definition livestreams at their fingertips, AHF employees can now easily understand what's happening onsite with just a quick glance.
Gone are the days of grainy and laggy footage, which used to hinder AHF's ability to discern onsite activity. Thanks to Rhombus, they now enjoy crystal-clear and accurate video, which saves precious time when evaluating potentially unsafe situations.
Proactive Real-Time Alerts with AI Analytics
AHF uses Rhombus' AI-based alerts to go beyond basic video monitoring. Intelligent alerts—like human movement alerts and unusual behavior detection—are triggered automatically when suspicious behavior is detected, giving staff a proactive heads-up when something out of the ordinary occurs. AHF's employees can quickly investigate potential safety risks before they escalate, minimizing risk and improving the security of their clinics and personnel.
Simple, Centralized Management Across 13 Countries
Rhombus revolutionized AIDS Healthcare Foundation's video security by delivering a unified and user-friendly system that caters to all clinic locations across Africa. Complex and siloed security solutions are a thing of the past; the unified nature of the Rhombus system simplified AHF's operations and brought unprecedented visibility and consistency to their security management.
Standardizing Video Security on a User-Friendly Platform
"Ease of use was our top priority, since we operate in 13 countries across Africa," says RC Miles. Before Rhombus, each healthcare clinic had its own video security platform, resulting in a lack of integration and consistency. AHF sought a unified solution that would be user-friendly for all employees, regardless of location or country.
As a solution designed with user-friendliness in mind, Rhombus met their needs perfectly. The platform is simple to learn and does not require technical expertise, meaning that AHF's doctors, nurses, and clinic staff can use the system with confidence and ease. With Rhombus, AHF has eliminated a ton of complexity and standardized their video security with one centralized system that provides visibility across all clinics.
Robust Video Security in Resource-Limited Locations
AIDS Healthcare Foundation operates in areas where bandwidth is costly and internet access is scarce. They needed a video security system that could deliver powerful and reliable performance to clinics that have minimal access to technology and infrastructure.
With Rhombus, AHF's technical limitations aren't a problem. The platform's efficiency and scalability enable it to function seamlessly even in bandwidth-constrained environments, ensuring that AHF's clinics have robust video security coverage at even their most remote locations.
Smooth Installations in Remote Areas
AIDS Healthcare Foundation's Africa deployment serves a wide variety of locations, from crowded urban cities to remote villages. Rhombus' flexibility is a key advantage because it seamlessly adapts to the diverse requirements of AHF clinics spread across the continent. This versatility enables AHF to maintain consistent video security standards across all their locations, ensuring a unified and cohesive approach to protecting their staff, patients, and assets.
"We needed a system that could adapt to whatever environment that we throw at it," says RC Miles. "This is where Rhombus truly made their bones. We did installations 10,000 miles away from AHF HQ, and not only was the deployment process extremely well done, the system's performance in these remote clinics is outstanding."
Flexible Deployment in Oyugis, Kenya
The remote village of Oguyis, Kenya has no local internet infrastructure. AHF's clinic is only able to receive internet via satellite tower. Despite these technical limitations, Rhombus rapidly deployed the cameras and today, the system delivers robust, reliable video security for the Oyugis clinic.
Bandwidth-Friendly System in Mathare, Kenya
AHF's clinic in Mathare is across the street from the second largest slum in Africa. The available bandwidth is only 3mbps at best, but Rhombus cameras perform extremely well in this low-bandwidth environment. Cameras from the clinic can be quickly and reliably pulled up on a phone, and the lag is so minimal that you can wave to the camera and immediately see the action on the livestream.
"Communicating the standards and requirements of the installation was done very well. Once we got on the ground, the setup was incredible. We were able to install and set up each camera within minutes, which is extremely impressive," says RC Miles.
AHF's Partnership with Rhombus
"The quality of the Rhombus cameras and overall system is simply outstanding. AHF prides itself on being nimble, and Rhombus adapts to every environment we throw at it, including very challenging environments. It's robust, flexible, and easy to install—the perfect technology to deploy across our clinics."
"Our experience working with Rhombus has been incredible. Rhombus actually listens to our ideas and turns them into action—which is unusual for those of us working in the video surveillance industry, and highly appreciated. Rhombus' culture is very adaptive, and they are always willing to listen to our feedback and suggestions." — RC Miles, Global Director of Safety & Security at AIDS Healthcare Foundation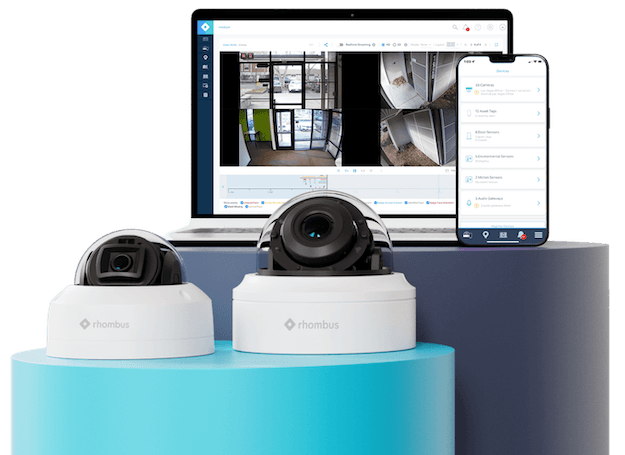 Try Rhombus for Free!
See why school districts, cities, and Fortune 500 companies use Rhombus.
Start Trial