Complete Physical Security Designed for the Future
Rhombus has allowed us to remotely view any property, be alerted to specific activities, better serve our customers, actively control building access, and more. We're barely scratching the surface of what's possible and the whole experience has been exceptional. We're big fans, to say the least.
- Brad Minsley, Managing Director at 10 Federal
Join a Demo!
Learn how Rhombus can deliver a better security experience for your organization.
Headquartered in Raleigh, North Carolina -- 10 Federal is a commercial real estate company that manages different properties, including multifamily apartment complexes and self-storage facilities. With over 12,000 self-storage units and 3000 apartments under management, 10 Federal required a high-performing and reliable video security solution that provided real-time visibility across their multiple locations.
Over the years, Brad and Cliff Minsley, Co-Founders of 10 Federal, tried various legacy video surveillance brands but were consistently frustrated with the technology and user experience. As their business continued to grow, they encountered issues with scalability and performance that their antiquated NVR systems couldn't solve. Remote access was unavailable, the system was challenging to work with, and the product features did not meet expectations.
With properties spanning the Southeastern United States, 10 Federal's existing systems were siloed from one another, making it difficult to acquire visibility unless they were on-site. This meant that the system was primarily used after an incident had already occurred, which did not align with 10 Federal's future technology plans.
We didn't just want another camera system, Brad shared. We wanted a system that gave our organization the ability to be an active participant across our different properties without having to be there physically.
With their on-premise system, the product features they had been promised did not live up to expectations. The system had boasted accurate license plate and facial recognition capabilities, but in real-world usage, the system did not perform well and generated frequent false positives.
We were told the cameras could do certain features, but that just wasn't the case, said Brad. Spending money on a system that didn't live up to its promises or deliver value didn't make sense. We needed a solution that actually worked.
While their previous system served its purpose in capturing video, the software was complicated and inefficient to use. Finding footage was difficult, and in order to share footage with authorities, employees had to pull footage directly from the SD cards or hand over the NVR entirely.
The cameras and software were only a few years old but just felt dumb, said Brad. We had to create separate workflows and processes to do simple things like finding events or sharing footage. This wasn't sustainable, and we needed to find something better.
10 Federal received a demo and experienced firsthand that Rhombus could accomplish everything they wanted from a video security solution. After testing the system out, Brad and Cliff decided to move forward with Rhombus.
10 Federal received a physical security platform that combines commercial-grade cameras with sharp video resolution and connected IoT sensors for complete coverage across their various facilities. The real benefit, however, came from Rhombus' video management software. Brad and Cliff can now see their properties in real-time from anywhere, use AI features to streamline operations, and leverage third-party integrations and an open API to futureproof their video security.
Secure 24/7 Remote Access
10 Federal now has a video security solution with native remote access and incredible performance. With Rhombus, Brad and Cliff unified their physical security to one platform and equipped their employees with an easy-to-use solution to help monitor facilities at scale.
The previous systems we've used and evaluated didn't deliver the modern capabilities we wanted, Brad said. Everything was fragmented. Rhombus brought everything together to one centralized platform, which provided more value than any other solution we've used in the past.
Rhombus delivers accurate face and license plate recognition, which was a major requirement for 10 Federal. Face and license plate recognition sped up investigations and allowed employees to pinpoint specific faces or vehicles and pull up footage of recent sightings in a matter of seconds.
Our previous system claimed to have advanced AI features like face and license plate recognition, but it barely worked, said said Brad. We now have a reliable solution with accurate AI to help us streamline investigations, improve operations, and strengthen our security so that we can better serve our clients.
Connected IoT Sensor Network
Brad and Cliff wanted not just video surveillance, but deeper diagnostic insight into their multifamily and storage locations. To accomplish this, they leveraged the Rhombus E1 Environmental Sensor and D1 Door Sensor to receive actionable, real-time insights.
The E1 Sensors enable 10 Federal to proactively monitor their temperature-controlled storage units and set temperature and humidity thresholds. When these thresholds are exceeded, the sensors trigger an alert, which signals to employees that the thermostat needs to be adjusted or that certain HVAC systems may be malfunctioning.
Additionally, the D1 Door Sensors provide added security by ensuring storage units and building doors are properly closed at all times. Using the sensors gives us more than just another camera system—it's more of a diagnostic solution that gives us added peace-of-mind, Brad said. It's helped us monitor our facilities with greater visibility than what we thought was possible. We now have a complete view of what's going on throughout our organization with real-time sensor data—it's been incredible.
Enterprise Integrations and Open API
Rhombus' key advantage over traditional surveillance options is its ability to easily integrate with other business solutions. This openness and flexibility allow 10 Federal to deliver a unique client experience, be futureproof, and help automate some redundant operations processes. With over 20+ pre-built integrations and an open API, Rhombus provided the versatility and long-term value that Brad and Cliff were looking for.
We wanted a solution that would grow with us and eventually become our buildings' central nervous system, Brad shared. The Rhombus integrations and API allow us to either use the systems we have in place or bring other innovative solutions to help us tailor our physical security with the best available technology.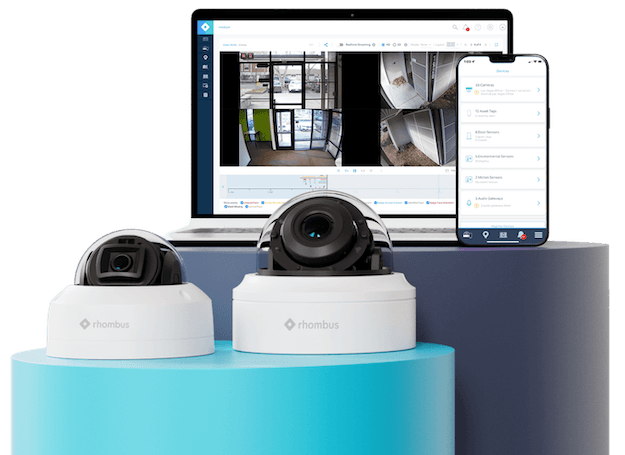 Try Rhombus for Free!
See why school districts, cities, and Fortune 500 companies use Rhombus.
Start Trial