Back to blog home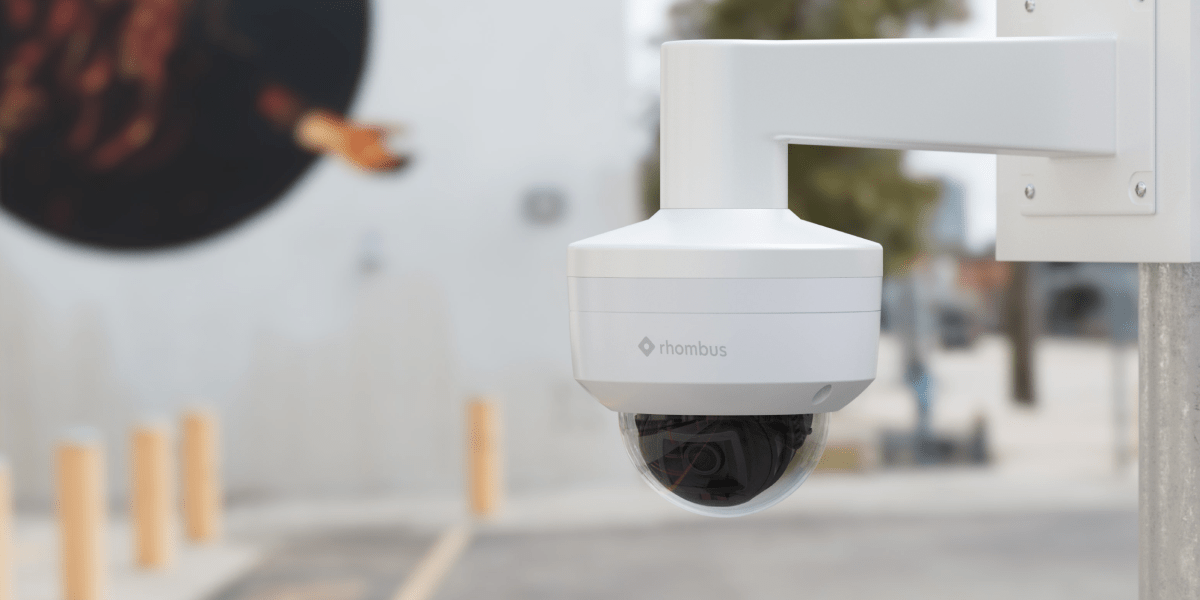 Back to blog home
Introducing A Safer Alternative to RTSP: Secure Raw Streaming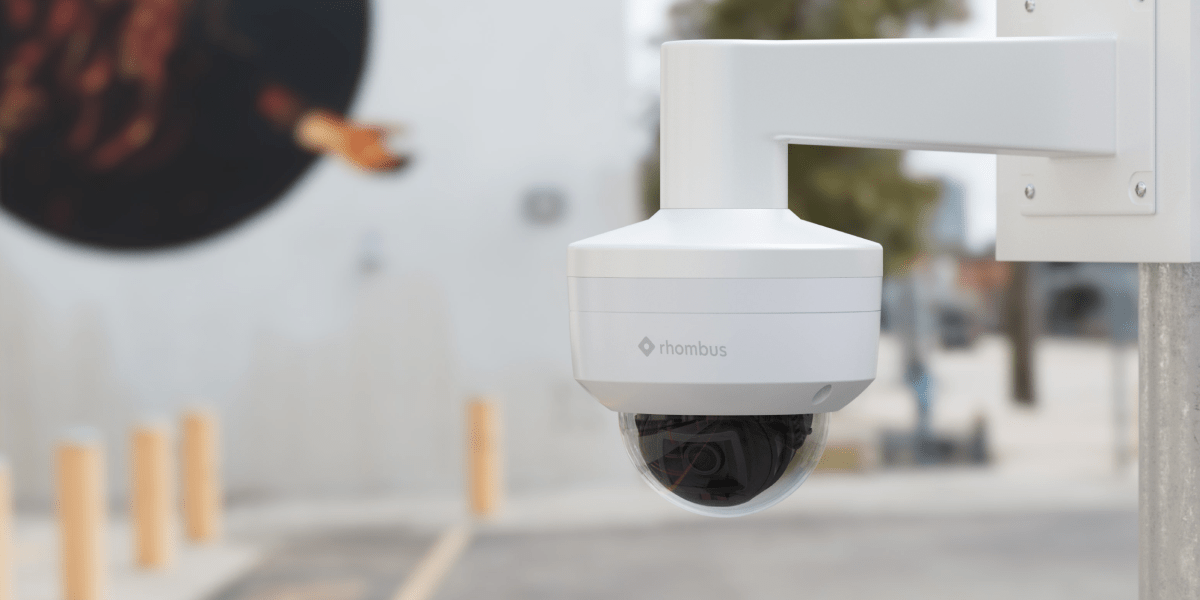 At Rhombus, we're dedicated to providing customers with powerful ways to protect their spaces.
Physical security isn't one size fits all, and we believe that a good security partner should empower users to meet their specific security needs. The Rhombus platform offers an open experience that balances simplicity, usability, and cybersecurity. These methods include offering a fully open API, out-of-the-box integrations, and, today, Secure Raw Streaming.
Secure Raw Streaming is a safer alternative to Real-Time Streaming Protocol (RTSP), allowing organizations to access Rhombus video feeds and utilize third-party applications and services to extract greater value.
With Rhombus' spotless track record of delivering secure cloud solutions, Secure Raw Streaming is yet another way Rhombus goes above and beyond in providing an amazing user experience while protecting your data in the most effective way possible.
What is Secure Raw Streaming?
Secure Raw Streaming is a safer way to stream live video from Rhombus cameras to third-party devices and applications.
Technically speaking, it's H.264 streaming over HTTPS. This is one of the most reliable and widely-used video streaming protocols for online videos—if you've watched a video on the internet in the last ten years, chances are it used this protocol.
The Best Choice for Secure Streaming
At Rhombus, we've built a reputation for delivering high-performing cloud security solutions with best-in-class cybersecurity practices. Our customers expressed interest in RTSP-style functionality, but RTSP streams are a risky choice for video surveillance. Rhombus maintains a strict commitment to cybersecurity and data privacy, and we will never offer a feature that doesn't include rigorous, best-in-class protocols.
With Secure Raw Streaming, you get all the functionality of RTSP with none of the risks. Secure Raw Streaming offers a more stable performance so organizations can reliably use Rhombus cameras on third-party platforms without the cybersecurity vulnerabilities commonly found in traditional RTSP streams.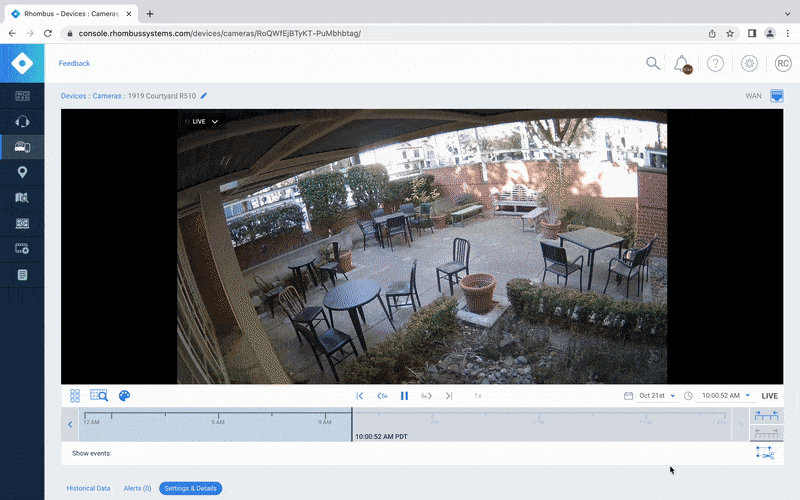 Create safe, secure streams for any camera with just a few clicks in the Rhombus Console.
Secure Raw Streaming vs. Real-Time Streaming Protocol (RTSP)
Those familiar with the video surveillance industry are likely familiar with Real-Time Streaming Protocol (RTSP). Both Secure Raw Streaming and RTSP are streaming protocols, meaning they accomplish a similar effect, but they are completely different in methodology and processes.
A Secure Alternative to RTSP
Secure Raw Streaming is a proven technology that provides a more secure alternative to RTSP.
Both Secure Raw Streaming and RTSP technologies serve a real need among users. However, we highly recommend against using RTSP in video surveillance due to its inherent cybersecurity vulnerabilities.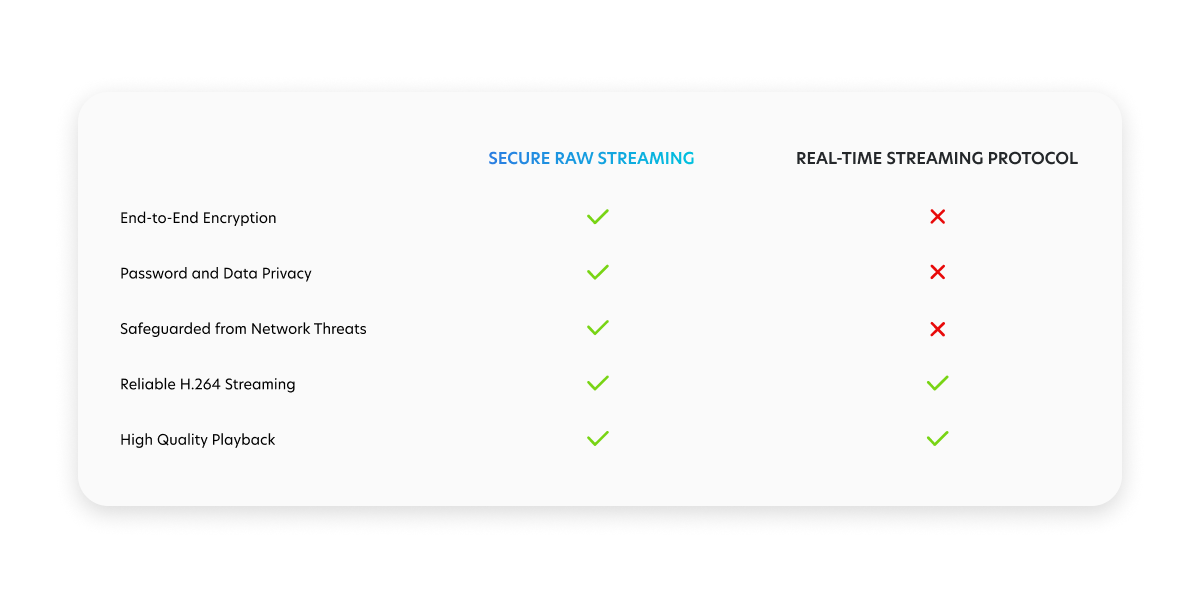 Cybersecurity Vulnerabilities of RTSP
Video surveillance systems handle sensitive data that must remain private. RTSP is often used for its ease of deployment, but this protocol typically possesses critical cybersecurity vulnerabilities that make it a poor fit for streaming sensitive video data. These vulnerabilities include:
Lack of end-to-end encryption
Passwords exposed as plain text in RTSP URLs
RTSP, by itself, is completely insecure and does not support any end-to-end encryption. Even if the RTSP stream is password-protected, the password itself can be sniffed out because the data transmitted between the camera and the user requesting the video stream is insecure. Users may set passwords, but those passwords are exposed in plain text in RTSP stream URLs.
Any video or audio streamed over RTSP can be discovered by a malicious party on the same network as the camera. This type of attack would be invisible to the camera and the person streaming it.
For these reasons and more, Rhombus chose to avoid RTSP streams to ensure users receive the safest, most secure experience possible.
When Do You Need Secure Raw Streaming?
A Smooth Transition to Modern Cloud Architecture
Secure Raw Streaming is ideal for customers who want to integrate Rhombus cameras with their existing NVR/DVR system as they gradually deploy Rhombus throughout their organization, enabling a smoother transition process.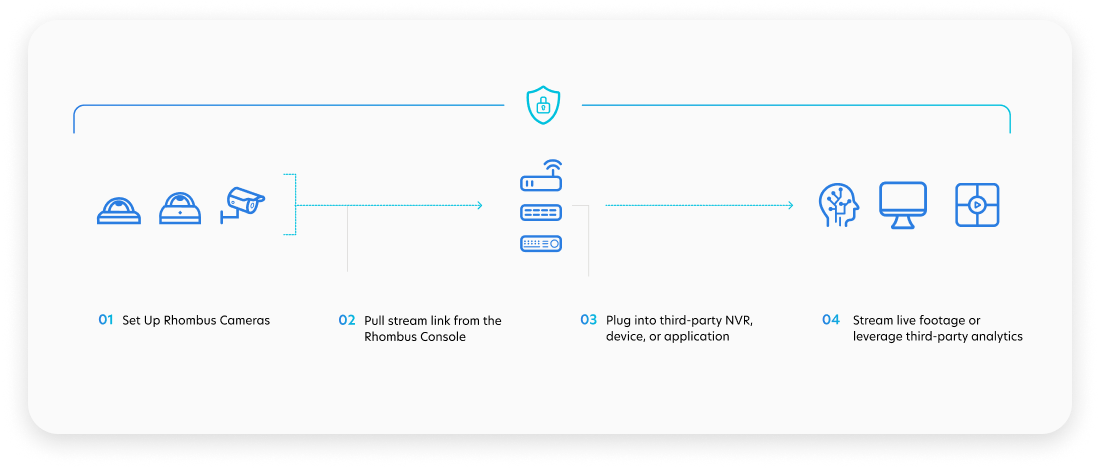 Many customers who deploy Rhombus are switching their organization from a pre-existing camera deployment—often a traditional system that uses onsite NVRs.
For larger organizations, the interim period can be challenging. Some of our customers monitor security footage for dozens or hundreds of locations from a centralized security center. During the rollout process, they want the capability to view footage from all sites—Rhombus and non-Rhombus—in a unified way.
Secure Raw Streaming provides this capability. As an organization fully transitions to modern cloud architecture, sites with Rhombus can take full advantage of the platform. Meanwhile, sites that don't yet have Rhombus are able to access devices from their existing system, making the transition to a new security platform easier.
Seamless Integrations with Third-Party Applications and Services
Secure Raw Streaming is ideal for users who want to integrate Rhombus with third-party analytics providers. It lets customers stream live footage within third-party apps to facilitate powerful and niche analytics.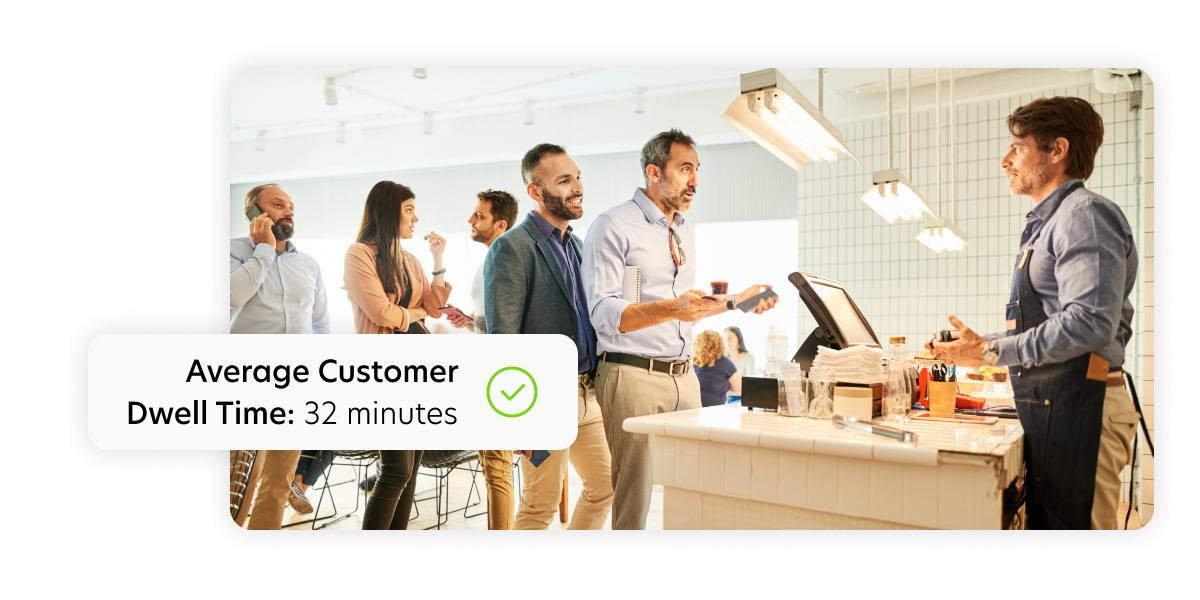 Integrate Rhombus livestreams with advanced third-party analytics to improve operations, security, ROI, and more.
Rhombus comes with many out-of-the-box AI analytics, such as Face and License Plate Recognition, Color Search, Unusual Behavior Detection, and more. We routinely roll out new analytics directly to customers to increase functionality and flexibility.
However, some users want to leverage AI analytics that are not natively available on the Rhombus platform. Secure Raw Streaming enables users to pull Rhombus livestreams into other applications for specialized analytics.
For example, if a business finds a third-party analytics package that analyzes customer walking speed, or provides gun detection, they can now connect Rhombus livestreams to the third-party application to enable that functionality.
The Best Streaming Solution for Video Surveillance
Secure Raw Streaming unlocks powerful new ways for customers to streamline operations and leverage third-party analytics with the Rhombus platform. This type of streaming protocol—HTTPS—is widely used and works in virtually all conditions and situations. It delivers excellent quality no matter the connection, software, or device.
Prioritizing Cybersecurity with a Secure and Proven Technology
When it comes to video surveillance, data security should never be put at risk. Organizations have an ethical and often legal responsibility to safeguard the footage and information captured by security cameras.
For this reason, unsecured streaming solutions such as Real-Time Streaming Protocol (RTSP) are not recommended for video surveillance use cases, especially at the enterprise level. Though a more secure version of RTSP does exist, known as RTSPS, this protocol is not widely used and thus lacks support; it is famously incompatible with most NVR systems.
The most significant advantage of Secure Raw Streaming is its stringent cybersecurity. Secure Raw Streaming features end-to-end encryption and protects the privacy and integrity of the exchanged data while in transit. Data and media are protected from man-in-the-middle attacks, and communications are protected against eavesdropping and tampering.
Secure Raw Streaming is available today in a beta program. If you're interested in using Secure Raw Streaming or have any questions, please reach out to sales@rhombus.com.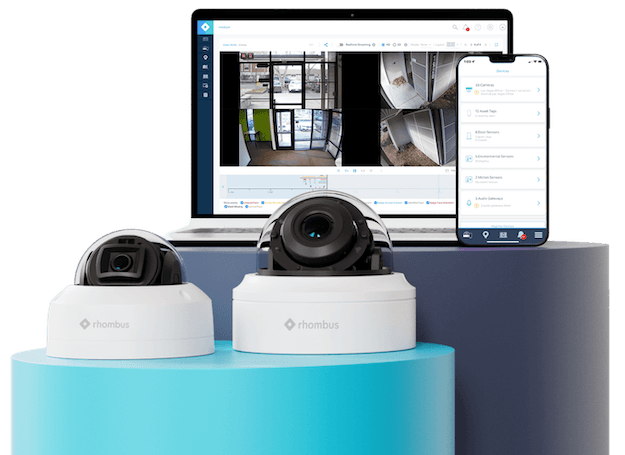 Try Rhombus for Free!
See why school districts, cities, and Fortune 500 companies use Rhombus.
Start Trial