Back to blog home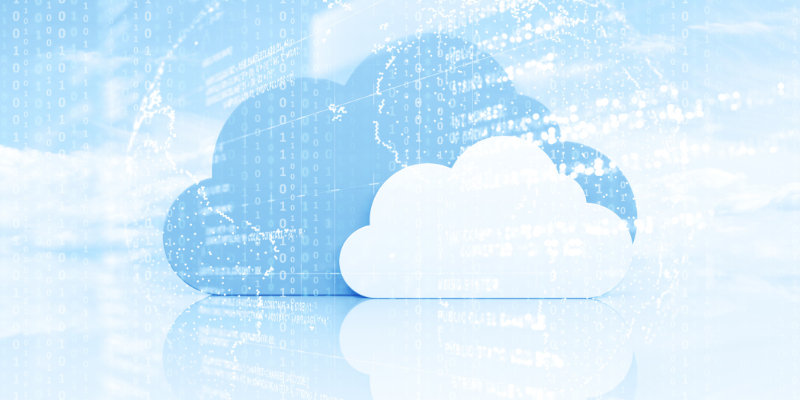 Back to blog home
What Is Cloud-Based Video Surveillance? | Guide to VSaaS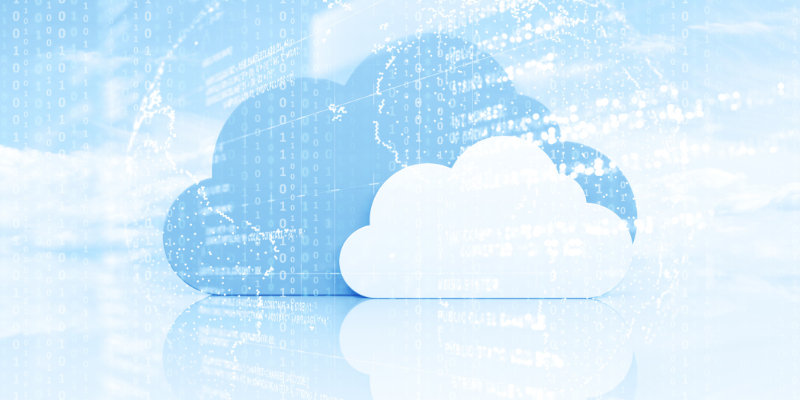 Cloud-based video surveillance has become popular with enterprise organizations that want to modernize their security camera systems. Before you jump into the cloud, you may be asking, how does cloud surveillance work, and how does it fit into your security needs?
This article is a perfect primer for anyone interested in the functionality and benefits of cloud video surveillance. In it, we share a straightforward breakdown of what it is, how it's different from traditional solutions, and why it matters for your organization.
What is cloud-based video surveillance?
Cloud-based video surveillance is a type of video security in which captured footage is stored remotely in the cloud instead of on an onsite server or device.
Cloud systems combine the functionality of a traditional security camera system with the power and ease of cloud technology. They provide many benefits that traditional systems do not—including native remote access, centralized management, and a significant reduction in system hardware.
What's the difference between a cloud and an on-premise system?
The fundamental difference between traditional systems and cloud systems goes back to the age-old IT split between cloud and on-premise. On-premise solutions use local onsite servers to function and store data, while cloud solutions use remote cloud servers to accomplish the same thing.
Cloud solutions are becoming more and more prominent in both business and consumer environments. Email has already undergone a shift from on-premise to the cloud; email was originally only available via physical onsite servers, and today, cloud email platforms such as Gmail and Outlook dominate.
There's a technological shift happening in the video security industry, with organizations and vendors realizing the potential of the cloud.
How does cloud video surveillance work?
All security camera systems capture surveillance footage. The core difference between them is what happens to the video footage once it's captured—how it is transmitted, and how it is stored.
Until recently, all video surveillance systems required an onsite video recorder (NVR or DVR) to record and store video data. This is typically referred to as an 'on-premise or 'traditional' surveillance system. Cloud-based systems eliminate the need for local recorders and servers—in other words, no more NVRs or DVRs.

Cloud video surveillance systems transmit video data to the cloud for cloud computing and data storage, allowing native remote video access from anywhere and any device.
Video surveillance without NVRs or DVRs
Cloud-based video surveillance works by transmitting video data over the internet to store footage in the cloud. The 'cloud' is simply a remote server where video data is stored—as opposed to being stored on a local server or hard drive.
For many businesses, this is a welcome change. Traditional systems with physical recorders are often expensive to maintain and complicated to use. Cloud systems are easier for IT teams to maintain, and cloud video management software unlocks a whole host of capabilities and features that make managing security much more powerful.

On-premise NVR/DVR video surveillance systems require a lot of onsite hardware to function.
What are cloud IP security cameras?
A cloud IP security camera is simply an IP camera that functions in a cloud video surveillance system.
Like traditional IP cameras, cloud cameras transmit video data using the internet—a network Ethernet link, Wi-Fi, LAN, or cellular network. However, cloud cameras transmit and save video to a remote cloud server instead of transmitting video to a local video recorder (NVR or DVR).
What is cloud video management software (VMS)?
Video management software (VMS) is how you use your system on a day-to-day basis. Once security cameras are recording footage, the VMS is the interface through which you view and interact with that footage.
Through the VMS, you can:
View footage
Perform investigations
Save clips and share footage
Manage permissions, cameras, and system settings
Achieve much more depending on your system, with some systems providing in-depth analytics features.
On-premise VMS systems involve installing software onto local machines and often require users to be onsite to access footage or make changes to the system. A cloud VMS has a distinct difference and advantage: native remote access.
Cloud video management software is not tied to specific physical devices. It's typically app-based or browser-based and can be downloaded onto any device. This gives users much more flexibility when managing video surveillance for their organization.
What does 'VSaaS' mean?
'VSaaS' stands for Video Surveillance as a Service and is another way to refer to cloud-based video surveillance. This phrase has become a standard industry term over the past several years. As a Software-as-a-Solution (SaaS) offering, users purchase recurring licenses in addition to the hardware.
Cloud licenses typically cover an all-in-one solution that includes the following:
Video management software (VMS)
Cloud storage and archiving
Local on-camera storage
Server access
Automatic updates
Customer support
Advanced features and analytics (vendor-dependent)
Advanced cloud VMS features and analytics
Today, many cloud surveillance systems harness the power of cloud computing to open up a whole world of new features and functions. Modern systems can analyze massive amounts of video without any manual work on the user side, allowing you to navigate footage quickly and receive proactive alerts in real time. With a unified cloud platform, it's simple to use these features at scale across multiple locations simultaneously—for example, you can search footage from a site in California and a site in Canada at the same time.
Advanced system features may include:
Native remote access: Remote access is the cornerstone of any cloud surveillance system. View footage and leverage your entire system from anywhere in the world for greater convenience, smoother operations, and time-saving flexibility.

Intelligent search for fast investigations: No more scrubbing through footage. Use AI-enhanced tools to easily navigate video feeds and quickly find what you're looking for.

Easy sharing of livestreams & clips: With cloud-based remote access, you can easily share footage remotely via methods such as URL, SMS, and email.

AI analytics: Search across all cameras and locations using facial recognition, vehicle and license plate recognition, color search, people counting, noise detection, audio analytics, unusual behavior detection, and more.

Automatic updates: Cloud connectivity allows providers to automatically roll out new features and security updates, making maintenance effortless and ensuring no gaps in cybersecurity exist.

Real-time alerts on any device: Receive customizable, automatic alerts while on the go to make your security proactive and gain peace of mind after hours.

Mobile apps: The cloud lets you remotely access your system from anywhere in the world. Mobile apps make the most of remote access and put visibility at your fingertips.

Flexible user permissions: No more restrictions based on devices or location. A cloud VMS can allow you to set custom, granular user permissions that match your organization's unique needs.
Try Cloud Video Surveillance with Rhombus
At Rhombus, we believe that physical security doesn't have to be stressful. Our cloud-based solution makes enterprise video surveillance powerful and user-friendly, so you can streamline operations and improve safety at scale.
Rhombus' unified, cloud-based platform includes smart security cameras, connected IoT sensors, and integrations with best-in-class third-party solutions. You get all the benefits of an enterprise cloud solution with consumer-level ease of use.
With the Rhombus platform, you can:
Gain all the benefits of a cloud-based system (cloud cameras, cloud VMS, cloud storage, cloud computing, cloud-based integrations, and more)

Use native remote access to manage all locations from anywhere

Gain incredible scalability and flexibility with unlimited locations, users, and devices

Accelerate incident response with fast, powerful, AI-enhanced investigative tools

Receive actionable insights with real-time, automatic alerts

Integrate with third-party solutions to build exactly the solution your organization needs
To learn how Rhombus can help you improve safety and streamline security management, request a free trial or reach out to a team member at sales@rhombussystems.com.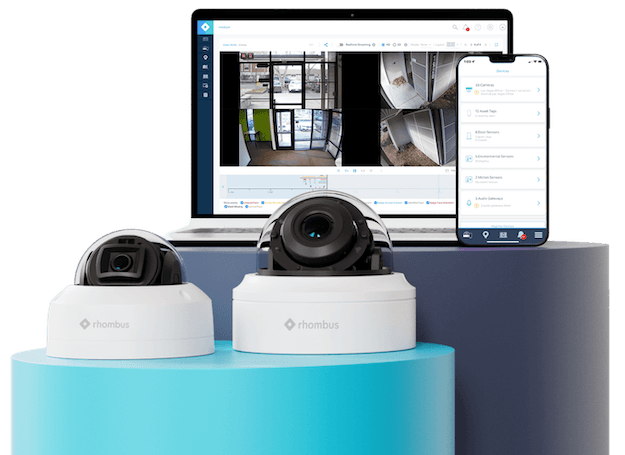 Try Rhombus for Free!
See why school districts, cities, and Fortune 500 companies use Rhombus.
Start Trial