Every month, Rhombus releases new features and optimizations designed to make security management more streamlined and intuitive.
August's updates are here to help you save and share footage more precisely, customize your video player, and set up browser notifications for a better live monitoring experience.
Let's dive into the exciting new features and enhancements released this month! 
Create Video Clips and Streams Based on Time Stamps
With Rhombus, saving and sharing video segments is easy and fast. Previously, creating a video clip required using the Cutting Tool to drag a selection box around the desired footage in the video timeline. This is quick, but imprecise.
Now, you can manually enter start and end times when creating saved clips and shared streams to create a precise clip length.
Use This Feature To: 
Create video clips with precise start and end times.
Save time by saving and sharing all relevant footage, no more and no less.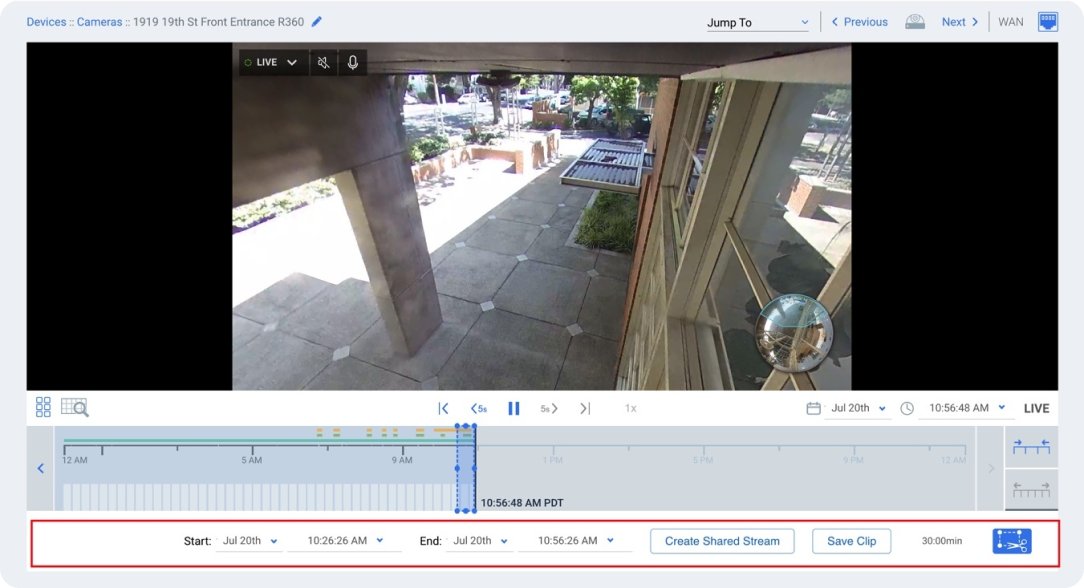 This functionality is especially helpful when using security footage as video evidence in court cases. Judges often have strict rules pertaining to the length of video evidence submitted. By entering start and end times for clips, it's easy to ensure that all video meets legal guidelines.
Personalize Event Bar Preferences 
Event Markers are one of the most effective ways to save time reviewing footage. From human movement to glass breaks, Event Markers make it easy to find specific activities in your video timeline at a glance and jump to the relevant footage.
As you add new Event types to your system, it can become overwhelming to sift through dozens of markers. Now, you can customize the Event Markers shown in your Events Bar by individually toggling each type of marker. This makes it easy to focus only on the types of activity that are relevant to you.  
Use This Feature To: 
Create a cleaner and more helpful Event Bar. 
Save time reviewing footage. 
Focus on the types of activity that matter to you.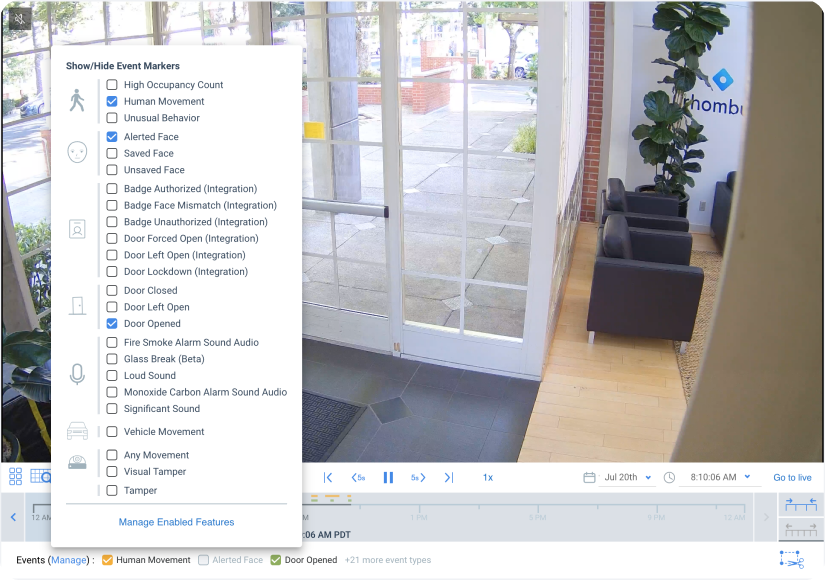 Event Bar Preferences are unique to each user and camera. This means that you can toggle different Markers for each camera, and every user can set their own preferences without affecting other users. For example, a receptionist may want to see only access-related events, a security guard may want to focus on unusual behavior and unauthorized faces, and IT staff may only want to see device tamper events.  
To customize your Event Markers, select Events (Manage) below the video player and toggle your desired markers. These event types will always display whether or not there are tick marks currently present.
Enable Browser Alert Notifications
Real-time alerts instantly notify you when onsite activity needs attention and are a powerful supplement or substitute for manual live monitoring. Rhombus alerts can be received anytime, anywhere, via email, text message, or mobile app.
Now, you can also receive Rhombus real-time alerts from your browser.  
Use This Feature To: 
Enhance live monitoring from a computer or browser. 
Get real-time alerts exactly how and where you want them. 

This functionality is ideal for users who regularly have the Console open in a browser and want to receive on-screen notifications without continuously watching the video player. You can keep Rhombus minimized or tucked away in a tab, receive a browser notification of new activity, and click the notification to jump directly to the clip or livestream.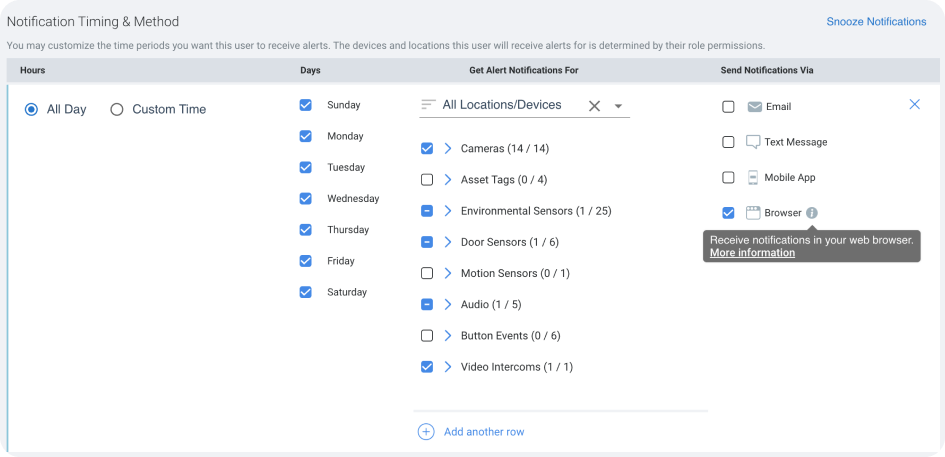 For help setting browser permissions, check out this support article. 
https://support.rhombussystems.com/hc/en-us/articles/17399164919181